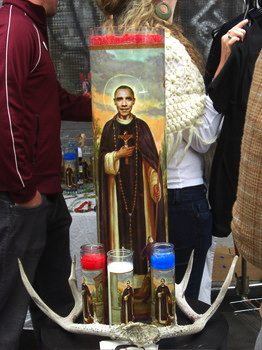 Taken in San Francisco and sent in to Mark Steyn "Votive Early, Votive Often ".
Patron anti-saint of Infanticide?
Though maybe you could use them for a Novena to pray he doesn't win.
Update: As some readers have suggested and judging by the style of habit used maybe this is just St. Martin de Porres. There are similar images of this saint clothed like this one. Pictures of this saint usually include him holding a broom and if you enlarge this image that seems to be what he is holding. So probably just a coincidence that the face is very Sen. Obama like.