Last week biology professor P.Z. Myers
desecrated the Eucharist by
first piercing it with a rusty nail (well we pierced Jesus with a nail
before) and then tossed it in a garbage can and covered it with coffee
grounds and a banana peel.
Catholics for the most part have responded
by praying for the man and
committing themselves to doing reparations for the desecration of the
Eucharist. We don't issue fatwas though we might understandably write
letters to the state university he is employed by for violating their
conduct code. Even if we see him as an attention grabbing jerk he is
still a person in the image of the God he denies and out of love for
him we pray for his conversion. In fact the first comment on
his blog entry was "May God have mercy on your soul."
He mocks what we know is sacred out of a
misguided materialist view and our of a faith in science that he wants
to have answer more than it can answer. Dr. Anthony Rizzi who is a
physicist writes in his outstanding book The
Science Before Science: A Guide to Thinking in the 21st Century
about the
tunnel vision that
scientists often develop in their empiro-metric view of the world.
For them philosophy is not a science at all though they live
by philosophy of scientism. Out of ignorance they don't know
that modern science grew out of Christianity and that it was clergy and
Catholic layman that were behind so many discoveries that further
developed the scientific method. They forget that it is
because of our non-material intellect that we can even do science to
investigate the material world in the first place.
Since Mr. Myers has so little appreciation
of Catholics since we are so stupid and he is so superior I though was
would someone as stupid as myself do to get back at Mr. Myers for this
desecration. I though hey "An eye for an eye" and all of
that. So what might a biology professor like P.Z. Myers hold
sacred? I though obviously a microscope since without it his
field would not have gone very far. So I asked my readers if
somebody could provide me with a microscope and one person slipped me
one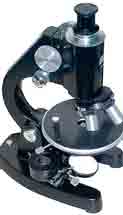 To show that this device has no power of
its own without a non-material intellect I first pierced it with a
rusty nail, and then desecrated it with holy water since obviously a
practice such as that offends scientism. I then tossed it in
the trash with a banana peel.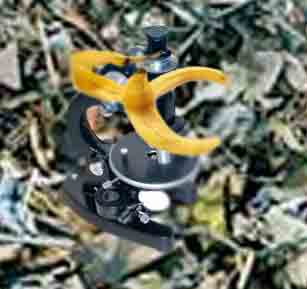 Science did not prevent me from doing any
of this and the microscope and every other tool is just a construct of
our immaterial intellects. So free yourself from scientism
The scientific method is itself a being of reason and not
provable
by the scientific method. The
empiro-metric method while quite useful for studying the
intelligibility of the world comes short when it come to ontology.
Ontological question are aided by these branches of science but the
empiro-metric view can't be used to prove ontological questions.
The three layers of abstraction Metaphysical, Mathematica,
and Physica are not at odds to each other and we need to return to the
view that theology is the queen of the sciences, though this does not
change the importance of the other sciences. Faith vs.
science is a silly debate when there is not a "versus" only an "and."
By the way I do highly recommend The
Science Before Science: A Guide to Thinking in the 21st Century
which I
recently read. It is a great introduction both to philosophy and how it
relates to the sciences. A densely packed read, but highly
worthwhile.