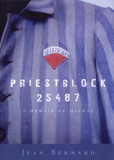 I am always delighted to receive a book by Zaccheus Press because I know without a doubt it will be excellent. They publish fine books that are really classics and when I receive their latest I put it at the top of my pile to read. Priestblock 25487 –
A Memoir of Dachau was written by Father Jean Bernard who was a priest from Luxemburg who was arrested by the Nazi (for what he never knew) and placed into Dachau. After the invasion of Luxemburg which was a predominant Catholic country many priest were arrested since they were seen as being too patriotic and as leaders of their communities.
In Dachau the priests and other clergy were separated from the general population and placed in their own barracks. At times they were treated better or worse than the other prisoners and when they were treated better it was done to isolate them and to provoke envy. Many are aware of the stories of Catholics such as Saint Maxmillian Kolbe and Saint Teresa Benedicta of the Cross who both died at Auschwitz and Blessed Titus Bradsma who died at Daschau where this book takes place. But normally we only have the details of the ends of their lives in the concentration camp and not the daily details.
Reading this book the phrase "The Banality of Evil" coined by Hannah Arendt kept ringing through my head. The details of daily life which mostly grew from bad to worst are chronicled in such a fashion that as much as is humanly possible you really start to see what life in these circumstance was like. The casual violence of the camp guards and the prisoners serving as capos is so hard to fathom. Even the camp photographer who took pictures as the prisoners first came placed a spike in a spring-loaded chair to hurt and to surprise prisoners as they sat down for their photographs. This type of cruel behavior was the norm and not the exception. We might like to think that they managed to find the most cruel human beings to work at such camps, but the reality is how the culture of these camps so easily corrupted those in it. This was a true culture of death and we can see the effects that the current culture of death also has towards human lives.
One of the things best communicated in the book was the constant hunger of the prisoners. Even reading the words it is hard to imagine people living on such small rations and then performing the labor that they did. His description of seeing a Dandelion in a field and his plans to pull it up and eat it can give you some idea about the hunger Prisoners were watched constantly and the guards generally would not let them try to eat anything they might find. He tracked the Dandelion for a couple of days looking for an opportunity to pluck it up which he finally did. But he also knew that several other prisoners were trying to do the same. At one point you read of his joy of receiving just a spoonful of soup. Many people simply did not survive these conditions or became so weak that they were just gassed.
Father Jean Bernard is quite frank about conditions and his own behavior. He doesn't sugar-coated anything to make himself look better, though you quite easily see his life of faith and the simple joys in quite mundane things. Especially poignant is his description of when they were able to get a hold of a Eucharistic host after they had been denied Mass for quite awhile. At first they had allowed Mass but this privilege was soon removed. The Germans often took out punishments on the priests in response to criticisms by the Vatican of the Nazi's and by actions of the German and other Bishops. When the camp guards noticed that prisoners would try to be around a chapel that held the Eucharist – they painted the windows black.
Quite beautiful is his description of friendships with people he knew before and come to know in the camp. The extreme difficulties of both hunger and physical ailments and how the prisoners would sacrifice to help each other out is quite amazing. Prisoners who already were living on a diet that barely sub stained them would give bread or other food to those who were in even more desperate need. In the midst of such cruelty there was also so much love.
I highly recommend this book and while it might seem more like Lenten than Advent fare it is still a good, but at times difficult, read.