In reference to my Imagine post about an atheist group's "Imagine No Religion" display with a picture of the Twin Towers John Gibson sent me this graphic he created.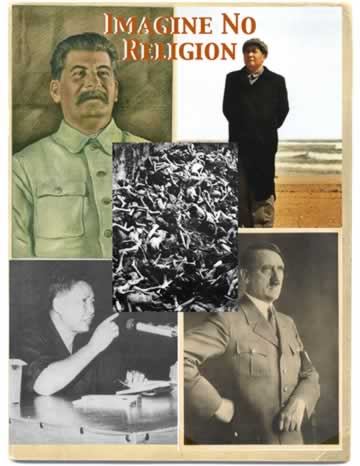 a
Now as to whether Hitler was an atheist I would consider debatable. The case can be certain made for his being influenced by occult racist theories developed by Theosophy and mixed with German Paganism.
But the others pictured were all avowed atheists. Atheist apologists like to bring up the fact that Stalin once went to seminary as if this set the stage for the massacres, purges, and famines and killing enough people to make Hitler look tame by contrast. Stalin though went to seminary not because he felt he had a priestly vocation, but because of the lack of locally available university education.
The question I would have for atheists is why should Stalin have changed any aspect of his life? He lived to be a 74 in a life of luxury where he was able to dictate to others to give him whatever he wanted. If this life is all there is then why not take everything by force if you are able? A lot of atheist morality is tied to the idea that you accept a framework of socially developed morality to help you get along in life. That these socially developed moralities are culturally dependent and thus can change. That morality is totally subjective. So why should Stalin have followed these subjective moralities when he became top dog despite them. He didn't "go along to get along" which is what culturally developed morality is all about. From Stalin's subjective view he saw that what he did worked and in a material only world there are only material pleasures which he had a plenty.
I had also found it interesting that the atheist group wanted to tie it's message to 9/11. At first glance you might think this makes a kind of sense since you would think that suicide bombers are going to be motivated by religious thought to be willing to die for a cause. Though the truth is that atheists are also quite willing to kill themselves in suicide attacks. Just look at the cases of the Columbine killers, the shooter responsible for the Virginia Tech massacre, and pretty much everybody behind school shootings. Instead of dying for bad theology these killers seemed mostly to be willing to die for publicity.
But when you believe there is really no law outside yourself besides what you willingly shackle yourself with to go through life it is not surprising that this can lead to a view where human life is cheapened. Morality at this level is a consequence management view of morality. It is not about absolute rights or wrongs, but if I do this am I willing to accept probable consequences for a given action. During my conversion I started to realize that my own high moral view was built on a foundation of straw and could not backed up by a materialistic world view. I took a lot for granted that was actually borrowed from religious thought such as the idea of personhood and absolutes when it came to morality.