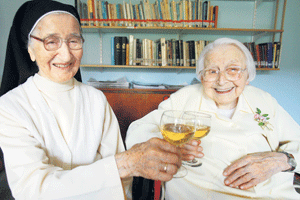 TWO nuns at an East London convent have recently celebrated
turning 100-years-old, but both said ? with a shrug ? that they don?t feel
any different to when they were 99!
Yesterday, a tea-and-cake party was held
at Emmaus Convent to mark Sister Bertrand's century seven weeks after her
friend Sister Serena also reached the milestone. "It really doesn't quite register
in my mind that I am really 100-years-old," said Bertrand, who has been a nun
for 79 years. "I am still not aware, maybe it's because of old age."
Serena
offered similar sentiments. "I don't even think about being 100-years-old,"
she said. "I can still do many things by myself. I don't think about being
old."
The two, both originally from Germany, are now living at the convent
in Cambridge, which is specially for elderly nuns. Bertrand entered the convent
when she was only 18 after growing up in a Catholic home.
The rest of this cool story is
here.