Michael R. Denton at For the Greater Glory posts:
The History Channel is showing a special on Star Wars for its 30th anniversary. So far, the highlight has been Newt Gingrich making a comment to the effect of:
"The Jedi are like the Jesuits of this world. They bring truth to areas that it hasn't been before."
George Lucas has hinted that the Jedi were modeled loosely on the Jesuits so you can partly see it. Duke University even has a course From Jedi through Jesuit: Approaching Religious Conversion via the Missionary.
But I think the comparison can certainly be brought into the modern world of Jesuit education. Certainly it would seem a lot of Jesuits have given into the dark side and not the dark night of the soul. Lots of Fr. Vader's out there that have no problems with Death Stars as long as they are pointed at unborn children. Quick name a Jesuit college in the United States faithful to the magisterium? In fact take your time to try to come up with one. It seems to me they have fallen to a sort of academic Stockholm syndrome. A desire to be respected by other once religiously founded but now secular schools has led to very nominally Catholic schools. To be respected by your peers has come to trump being faithful to the Church. Now I am sure this is an over simplification as every generality are, but to me it explains the results. Sure there are many great Jesuits, though they are the exceptions that prove the rule.
This Jesuits once known for defending the faith and their loyalty to the Pope are now more like the Star War's prequels than the first three movies in the series or more specifically they are like the first prequel The Phantom Menace. When you watch the prequels you think "Hey the plot is familiar and so are some of the characters, but the execution of these movies is severely lacking." When you attend a modern Jesuit school you get the same type of feeling towards Catholicism. That the Catholic identity part is sort of familiar but the execution of it is not very good.
The old style Jesuits were like Obi Wan Kenobi – wise, fearless, and willing to lay their lives down. Give me St. Ignatius with a light saber any day or any other of the great saints in the true Jesuit tradition. Instead now you get taught theology of the same caliber as taking acting lessons from Hayden Christensen.
Too many new style Jesuits are like well …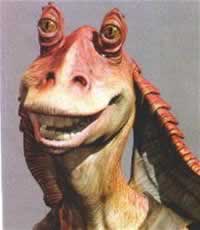 "Yah, yousa will get a fine ejacation at dis school in the Jesuit Tradishun with the Ja Ja Jesuits."