New York, Apr 4, 2007 / 10:38 am (CNA).- Paying for an item with the new World Missions Visa Card will now allow shoppers to take everyday purchases and turn them into help for Catholic Church programs in more than 1,150 mission dioceses in the world's poorest countries.
The Society for the Propagation of the Faith, a Pontifical Mission Society, announced the availability of the World Missions Visa(R) Card yesterday. Through this credit card program, one percent of net purchases will be donated to support the Church's pastoral and evangelizing mission in more than 120 countries throughout the global south, including support for educational and healthcare efforts.
The World Missions Visa Card will be issued by Washington Mutual and has been developed in partnership with Follieri Capital, which provides financial products and services to Roman Catholic Church organizations in the United States.
World Mission Visa cardholders will enjoy full Platinum Visa benefits, free on-line FICO(R) credit-score access, money saving coupons, online bill payment, zero fraud liability and no annual fee.
Information on the new credit can be found here.
And from one of my previous parodies.
Introducing the new Vatican
City State Credit Card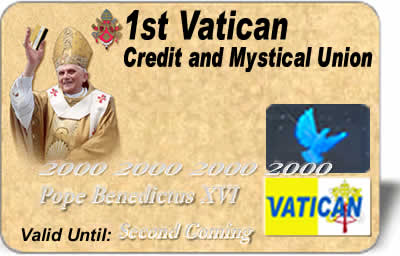 Sure you receive offers everyday in the mail and you promptly throw them away, but this offer is truly different. Tired of false promises and fine print that discloses how you are going to be raked over the coals if you actually charge anything? Tired of big banks that will only get bigger by charging you a fortune in interest and late fees. If you are tired and disillusioned by business cons then you will actually love this new credit card that actually delivers on its promises.
You ask "So what is so different about this card?". Well just look at some of the features delivered for all card owners whether they are lay, religious, or clergy.
Rates always below usury!
Debt forgiven during jubilee years!
Interest rate is only one percent above prime mover. That is our board prays to God asking his will in setting the base rate.
The gates of Hell will never defeat the Church so you know it's bank will be around for the long haul.
No annual fee though we do ask that you pray for the Holy Father and his intentions.
Every purchase earns you a pilgrimage value mile which can be used for your next trip to Rome, the Holy Land, Fatima, Lourdes, etc. *Offer not valid for pilgrimages to currently non-approved apparitions.
For purchases over a $100 dollars get a Mass said for your choice of soul in Purgatory.
If you report your card as stolen St. Dismas will automatically start praying for the thief to repent.
All profits go to Peter's Pence.
No late fees or inquisitions if you fall behind. Though we will assign homework based on chapters in the Catechism on the Seventh Commandment. Continued non payment might result in excommunication (void where not allowed by canon law)
Men belonging to mendicant religious orders can earn frequent friar miles.
Sound too good to be true? Well so is Jesus dying on the cross for our sins and opening Heaven to us if we cooperate in grace. If a sinner like you can be forgiven then anything is possible – even a good credit card offer!
But wait there is more! Each member gets automatically enrolled in our debt warning system. If your charges become disordered in relationship to your salary automatic stewardship warnings are mailed to your house or sent via email. Our group of dedicated contemplative money managers will also immediately start asking St. John of the Cross to intercede for you in the area of detachment from material things.
From the Church that brought you Western civilization finally there is a name you can trust on the card you carry around with you in your wallet.
Not all business currently accept the 1st Vatican Credit Card. Please ignore comments about whores and Babylon when using your card and pray for the individual. There are still people out there who hold anti-Catholic Credit Card feelings. Just remember what Bishop Fulton J. Sheen said:
"There are not over a hundred people…who hate the Roman Catholic Church Credit Card There are millions, however, who hate what they wrongly believe to be the Catholic Church Credit Card's terms of agreement"
So why wait? Get the card that offers both a temporal and eternal reward program. Don't leave Rome without it.
* Card not valid at Planned Parenthood or other institutions who cater to the culture of death.
* Cafeteria Catholic credit card users who dissent from the magisterium's terms of agreements will have their card revoked.