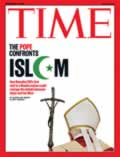 I wonder if the is the first Ad Orientum Time Cover?
There cover story on the Pope and Islam as he gets ready to go to Turkey includes What the Pope Gets Right by Fr. Neuhaus and of course the Muslim balance of And Where He's Still in the Dark. Rather ironic title considering that the author of it is the one in dark as far as the Regensburg speech goes.
But Benedict's speech implicitly suggested that he believes that Islam has no such relationship with reason–and thus is excluded from being European.
He frames the Pope's whole speech on being European centric and says that Benedict is a "profoundly European Pope." That he whole speech was about European identity. It is amazing how so many can read the same speech and then talk about as if they read a totally different one. He then goes on to what Kathy Shaidle would describe as "They invented Chess you know" defense of Islam with a list of influential Muslim scholars – though it seems to me most of them were greatly influenced by Greek thought in the first place. One he mentions kind of makes the Pope's point about reason. Avicenna believed that human minds were not in themselves capable of abstract thought, only potentially and only when illuminated by an angel – the Tenth Intellect.