Today is the Navy's 231st Birthday.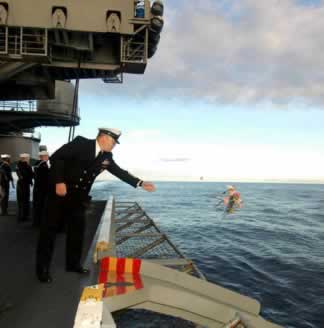 Command Master Chief James Russell tosses 17 roses into the Atlantic Ocean from the carrier Dwight D. Eisenhower (CVN 69) during a remembrance ceremony on Thursday to honor the 16 sailors and one officer who died in the terrorist attack on the destroyer Cole (DDG 67) six years earlier to the day. — Mass Communication Specialist 2nd Class Miguel Angel Contreras / U.S. Navy
The Eisenhower was the last ship I served on before retiring.
In other news here is a story today of a Navy Seal jumping on a grenade saving the lives of his members of the SEALS. Requiescat In Pacem Master-at-Arms 2nd Class Michael A. Monsoor.