Today being St. Jerome's feast day I'll repost part of an old post in relation to a patron saint for bloggers:
Hugh Hewitt notices that there is of yet, no patron saint of blogging and suggests St. Augustine as the obvious choice or possibly St. HUGH of Lincoln. While St. Augustine is a good choice, I have another saint in mind. I would nominate a contemporary of his – St. Jerome who was a prodigious letter writer. His temperament was closely suited to many bloggers and he was definitely a pundit who let loose a good rant at times He had to fight his naturally cranky temperament and is now both a saint and a Doctor of the Church. This shows that there is also hope for most of us pundit type bloggers who have been know to show similar traits at times (or everyday).
Being that he was once a hermit this would fit the media perception of bloggers to at T. They already identify us as predominantly pajama-clad white males blogging from a basement; so cave blogging would be an good metaphor for them.
"If you have trouble controlling your temper at times, being patient and staying calm interacting with others, then you are normal. Nearly everyone blows-up now and then. Grace and virtue can harness and tame you to some degree but unless you live in isolation you will most likely loose your cool occasionally. Our habits become ingrained in us. That's the most important reason why we should cultivate good habits, especially mental habits. Our thinking needs guidance because thoughts beget habits. Jerome can enlighten you. Implore him for assistance.
Perhaps because of his wide exposures to many people and travels, he developed a pugnacious and cantankerous disposition at times. His keen intellect could be contentious when his vision of truth differed from others. Jerome was a passionate lover of biblical, written expression. His ill-nature, that all creatures possess due to original sin, was forever attacking, challenging and defending his pursuit of scriptural expression." [Source]
Besides this Saint is one that many Protestants could also embrace as a patron saint since St. Jerome said "ignorance of scripture is ignorance of Christ."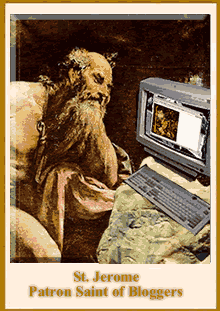 St Jerome, protector of sarcastic bloggers, pray for us!
Update: You can listen to or download an mp3 of Mike Aqualina discussing St. Jerome here, right click to download.
Fr. Z Posts on where is he burried?