A KNIFE-wielding gang has trashed a prestigious art exhibition in the grounds of Liverpool's Roman Catholic cathedral.
The yobs destroyed the Dreamspace project within hours of it being opened.
Up to 15 youths climbed the steps to the Metropolitan cathedral plaza and broke through hoardings.
A security guard tried to stop them but was threatened by the armed mob who then went on the rampage.
They ripped up the massive air-filled dome causing damage which will cost thousands of pounds to re-pair.


As I feared the building behind the art exhibit is indeed the cathedral (Metropolitan Cathedral of Christ the King) instead of a misplaced giant funnel or part of the art exhibit.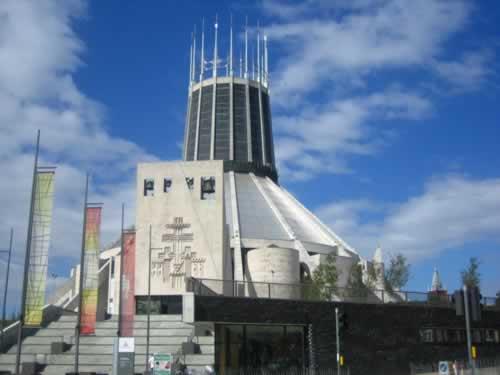 This looks more like something associated with the SETI project or perhaps a new laser weapon as part of a a missle shield. The interior also seems to follow a SF theme.