The fledgling congregation gathered in a circle at Sunday Mass at Spartan Memorial Chapel to introduce themselves. A woman in a long, white robe spoke first.
"My name is Victoria Rue," she said. "And I am a Roman Catholic woman priest."
Rue belongs to a renegade movement that is ordaining women as Catholic priests, in defiance of the Vatican. Today, Rue celebrates Mass at the non-denominational chapel at San Jose State University.
Joining her at the altar on Sundays — also in clerical robes — have been a married man, his wife and another woman. The ceremonies prompted the Diocese of San Jose this month to warn Catholics that the sacraments there would be invalid.
It's a prickly issue more Catholic dioceses will face as increasing numbers of women join the ordination movement.
"God has called me," said Juanita Cordero, a Los Gatos woman who will soon be ordained as a deacon and aims to be a priest by 2007. "Growing up it was never a possibility because it was always for men."
Cordero, a former nun, is among 120 women enrolled in the Roman Catholic Womenpriests program, which has been boldly ordaining groups of women as priests and deacons.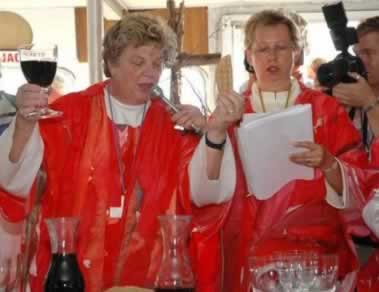 I also recently saw a question answered by Fr. McNamara at ZENIT.
Q: My cousin will be ordained this summer as a priest in the Episcopal Church (High Church). At her first mass, may I receive communion from her? — J.L., Silver Spring, Maryland
His reply was much better than the first quip that first came to my mind.
I haven't done a caption contest in a while and this picture above is ripe for it.
This is my body which is givin' up to you
I am the rapping priestess Victoria Rue
So what if Jesus Christ was a man?
I am changin' the genome plan
Just because I don't have an Y chromosome
Won't stop me from bein' the Pope of Rome
I have just the right kinda genes
To be "In Persona Christine"
We are tired of being dissed
Heck with Ordinatio Sacerdotalis
Who cares about Ratzinger's dubium
After all women just wanna have fun
"These vestments are great since I can go hunting after Mass without changing my clothes and it's waterproof to boot."
"Hold that notebook closer. I can't read the handwriting of the Eucharistic prayer you made up. Does that say Mother Mary or Mother Earth?"
"I that a real pancho or a Sears pancho?"