Gerald has found a story of a curious gift being given.
Since the start of 2006, the Austrian Diocese of Graz has begun sending a curious gift to all young people who celebrate their 18th birthday: a USB hard drive with information about the Catholic Church.
According to the Kath.net news agency, the portable hard drives contain information about the Diocese of Graz presented in a manner that is attractive to young people, as well as texts about the Catholic faith and a series of basic Christian prayers.
Gerald later updated his post to list the what the contents of the USB drive are. Judging by the limited comments the flash drive must require all of 512k. As one commenter said on his site "I'm curious as to what type of formation they provide for the first seventeen years." To say the least the contents are nothing beyond extremely basic information that should already be well-known by any truly catechized Catholic. Though judging from some of the wackiness that has occurred in this diocese before catechized Catholic are in short supply. St. Paul talked about "I fed you with milk, not solid food; for you were not ready for it; and even yet you are not ready," Though a diocese giving a lifetime supply of milk is not exactly spiritually nourishing.
I posted before about a Bible shaped thumbdrive and wished at the time for a Catholic version.
Now a Catholic version like the RSV-CE with the Catechism and the documents of Vatican II with a good search program would be pretty cool. Though maybe I will market a Spirit of Vatican II USB drive. I should get a good markup since it would consist of a connector and a case and I wouldn't actually need any flash memory for VII documents since they wouldn't know the difference.
Revisiting the subject I thought of possibly some cool specifically Catholic USB flash drives.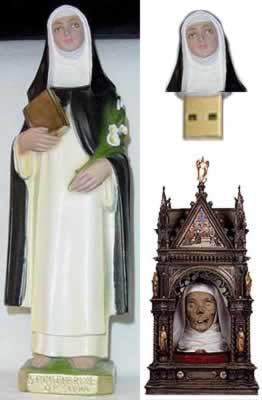 Introducing the St. Catherine of Siena USB 2.0 Hi-Speed Flash Drive!
The detachable head is a third degree relic since it has been touched to the relic of the head of St. Catherine of Siena.
Each statue flash drive comes with the Dialog of Catherine of Siena and many of her letters are included.
St. Catherine of Siena statue drives are available in 2, 4, and 8 gig enough to store all your documents including your Catechism, Bible, and Summa Theologica.
So whether you are a Dominican or just a geek with POD sensitivities you know you want the St. Catherine of Siena statue flash drive with detachable head for you collection!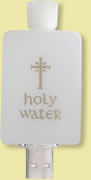 You usually carry around Holy Water with you so why not also store all your data with only one device. Our Holy Water is especially formulated with water that won't short out your keyboard or computer when you toss Holy Water on them after your computer has crashed once again or you need to exorcise some spyware.