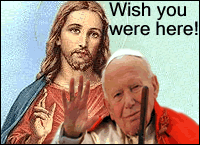 The St. Blogs police issued me a warning in that I have not yet posted anything on the one year anniversary of Pope John Paul II's death. This is of course mandatory for Catholic bloggers so here is my entry. On a more serious note I am tempted to give the quaint sayings about how times flies and so forth. At my parish they had a nice painting of Pope John Paul II placed by the side altar and it reminded me that I found it strange that I now feel closer to him now than when he was alive. I developed a devotion to him shortly after his death and frequently asked him for his intercession. That is the beauty of God's plan and the Communion of Saints. That when we think we have lost someone we can also find them again within Christ's mystical body. I truly can't say I miss Pope John Paul II, because I know he is closer than ever. It was extremely unlikely that while he was alive I would ever had gotten a papal audience, but now I can get one anytime I want.
I was going to write up how he affected my life, but I found that I had pretty much said it before in a post last year shortly after his death. A couple of years after he was shot he wrote Salvifici Doloris on the Christian meaning of human suffering. This Apostolic Letter expounded on the subject of human suffering, but his whole life was more than just a footnote to the redeeming value of uniting our suffering with Christ. When he was unable to speak he was all the more eloquent in speaking what the world so desperately needed to hear and still needs to hear. We watched him throughout the years more and more succumb to the fragilities due to age and disease. The press took every opportunity to mock his condition and still the crowds showed up to listen to the Wednesday audiences. When he died the very man that was supposed to be so out of touch with the common person as decreed by the MSM drew streams of people into Rome to stand in line for hours on end just for the very brief seconds to pass by his tomb and to give their farewells.
Just one more thing to add. While I drew lots of theological nutrition from what he wrote (my sites name splendoroftruth.com is based on his encyclical Vertatis Splendor), I would like to especially thank him for encyclical on the Rosary Rosarium Virginis Mariae. Praying the Rosary I had come to the conclusion that there was something missing from it. It was like it had been fast forwarded from when he was 12 to when he was 33 with the agony in the Garden. The Luminous Mysteries were a great gift to the Church in that this whole was plugged perfectly and I found it to be great benefit to be pointed to and to meditate on this events. Though I found the reaction of some to this new mystery to be rather funny. That they were arguing against adding to the Rosary while at the same time starting their Rosary prayer with the relatively new Fatima prayer (which is why I wrote the Lidless Eye Mysteries just for them). So thank you Pope John Paul II for this and all of your other gifts to the Church and for those in the future through your intercession.
Here is just a small sampling of posts on JPII: