ARCHBALD, Pa. – Judi Chindemi's bathtub is a beacon of faith.
Perched atop a ridge in her backyard, it rises about three feet out of the ground. Painted blue, it practically blends with the sky. Stage lighting gives a dramatic effect at night. Thickets of flowers adorn it in summer.
Lights and flowers aside, it would be just another bathtub if not for the Virgin Mary statue sheltered inside.
The reminder of the Blessed Mother's presence gives Chindemi peace.
"I sit on the porch, and I look over her," she says.
For nearly 20 years, this curious shrine has been the highlight of the garden kept by Chindemi and her husband, Paul. The combinations of cast-iron bathtubs and Blessed Mother statues are affectionately known as "Bathtub Marys."
For generations, these handmade shrines have dotted Northeastern Pennsylvania and other predominantly Catholic regions, with many sprouting up in the 1950s and '60s when families were remodeling and replaced their older claw-footed bathtubs.
In recent years, though, the number of Bathtub Mary shrines has dwindled. This is in part because older generations are passing away, but it is mostly because there simply aren't as many cast-iron tubs.
"It has more to do with bathtub technology," says Jeannie Thomas, director of the folklore program at Utah State University. "The structure isn't quite the same as it used to be. You are getting these molded plastic things that they are putting in."
The makeshift monuments' origins trace back to European culture where it was common practice to have outdoor shrines, Thomas says. With mass production in the 19th century, statuary became accessible to more people.
"They started to make statuary that was smaller, cheaper material and more affordable," she says. "The average person could have a shrine that was found in cathedrals."


When I read this article my visualization of these Bathtub Mary's was quite different from the reality. I though of a bathub laid out horizontally as you would normally see one.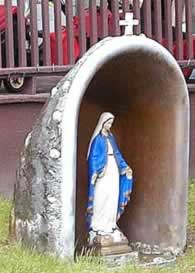 I found this example of a real one and it is kind of cool.