Considering the news that the Pope has been spotted around the Vatican using his new iPod Nano and sporting the white earbuds this cartoon is pretty appropriate.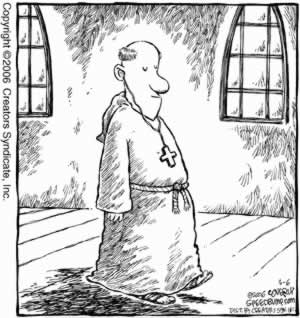 Dave Coverly's Speed Bump.
It does make me wonder that since the reason that the Pope wears white is because of a tradition started by a Dominican Pope what will be the effect of the Pope wearing white earbuds have on future Popes? Will the color of the headphones change based on the liturgical season? I hope they won't be restricted to the ones that come with the iPod and can have a decent pair instead.
I also wonder if the Vatican website will start displaying the Pope's playlist. Even cooler if they could sync it up with his iPod "The Pope 's is currently listening to _____".