Gerald at The Cafeteria is Closed posts a link to St. Maximilian Kolbe Church. Being that it is a church in California I though it might prove fruitful doing a bit of sillyness-mining and it was just about as challenging as shooting fish in a barrel.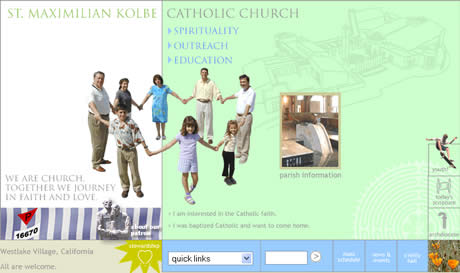 This is a snapshot of their home page. I rate it about -10 on the POD scale. I really wish my own parish's site had an icon of a skater dude or is that Sk8er? Looking at the picture to the right of the ring-around-a-posy'ers based on the angle and the lack of proportional indicators I had at first thought they had installed a nice ramp for the Sk8er dude. My mistake, it is of course the Baptismal font.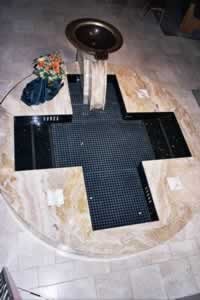 Theologically I kind of like the idea of a cross shaped baptismal font, though not one that could pass as a plus key on a calculator. As Gerald noticed the sanctuary is of course crucifix free and contains an unadorned cross instead. And of course they have a labyrinth on the grounds. Their map of the church lets you click on numbers and popup windows appear with a picture and a description. Most of the furnishings were done by the same woodworker for the L.A. Cathedral. All the pieces are interesting looking and obviously well crafted, though they might have saved some money by shopping directly at Ikea. The Ambo reminds me of a old fashioned radiator made out of wood, but I guess the word is to be radiated and we are to be warmed by the readings.
There page on spirituality had this paragraph.
Spirituality is not exclusive to the Catholics. While Catholicism once took the position that it was the "one true faith", the Second Vatican Council made it clear that Almighty God was much more open minded than that. The Council welcomed each person and faith that seeks the truth. In the mystery of God all creation is one. Christians believe that the fullness of God is revealed in the person of Jesus. Christian spirituality is Christ centered.
Well partly true and I almost fell off my chair when I read "that Almighty God was much more open minded than that." Now I know this is not fair but I will quote a text from an actual VII document.
We believe that this one true religion subsists in the Catholic and Apostolic Church, to which the Lord Jesus committed the duty of spreading it abroad among all men. -DH
They said the the position of "one true faith" (notice their scare quotes) is was once held and that the council changed that and yet the Council also reaffirmed it. But like I said not fair to quote actual VII documents of which is guaranteed to get a deer-in-the-headlights look from most liturgists and Religious Ed teachers.
Ironically their spirituality page includes a link to the book "Vatican Council II: The Conciliar and Post-Conciliar Documents" Their bookshelf also include a book by Father Anthony De Mello, SJ. The book is in a group of his latest works of which the Congregation for the Doctrine of the Faith signed by then-Cardinal Ratzinger said "one notices a progressive distancing from the essential contents of the Christian faith. In place of the revelation which has come in the person of Jesus Christ, he substitutes an intuition of God without form or image, to the point of speaking of God as a pure void." A reviewer at Amazon reviewed this specific book very succinctly "Awareness is watered-down yogiism, with a dose of EST & a little bit of Simon & Garfunkel thrown in."
This is always something that has amazed me in the recommendation section of so many Catholic web sites is that with the amazing, beautiful, and wonderful history of the Catholic Church's spiritual tradition is that the only thing they can find is fast food akin to chicken nuggets where you have no idea what part of the chicken they might have come from.
Now to be fair their web site is no St. Joan of Arc dissent and all. Just "welcoming" Catholicism with mission and vision statements. Funny thing is I thought we already had a mission statement. It goes "Go out in to the whole world…" or something like that.
Update: L.A. Catholic points out that the parish's website was designed by no other than L.A.'s openly 'gay' deacon, Eric Stoltz.