You have ordered those DVDs and video tapes off late night TV always looking for the latest thrill. After a while though you wait for something new and daring that hasn't been done before. That is you have waited until now for our great new set of DVD titles.
Jesuits Gone Wild!
We have taken our video cameras to Jesuit institutions across the United States to bring you the latest in entertainment. What you ask – Jesuit Universities? – how boring. These are not your daddy's Jesuit Universities!!!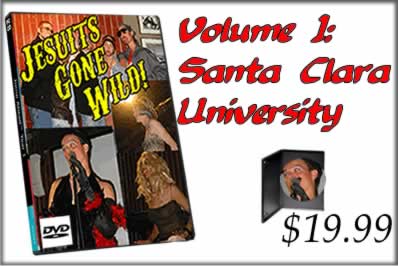 * Pictures from here
Volume 1 takes you inside the annual drag show at Santa Clara University – you guessed it – a Jesuit institution. Now you might balk that these were officially sanctioned by the university and that we are selling these videos under false pretenses. Not only is Santa Clara University officially approve these events they are also promoted as educational.
Primarily, the Drag Show/Lip Sync is an event that serves to advertise events of Queer Awareness Week on the Santa Clara campus, which include a panel discussion, an ally workshop, and a day of silence. Because the event is widely popular and a lot of fun for everyone, it can reach a larger university audience–an audience that might not ordinarily attend a workshop or discussion on homophobia.
People come to the drag show to be entertained. One of the biggest complaints at Santa Clara University is a lack of on-campus social events–probably a leading cause of the dangerously high levels of underage and binge drinking. Our goal is that students are safely entertained, leaving with not only a smile on their face, but also with a broader understanding of gender diversity.
The university's web page says that drag shows are "A Celebration of History", "A Celebration of Diversity", and a "A Critique of Gender Binarism" So besides are videos being entertaining there are also educational!
What's more we have plenty of fun and wackiness to choose from with 35 Catholic campuses performing the "V-Monologues" and most Jesuit institutions honoring pro-abortion politicians and celebrities you just know you won't be bored. You can bet you socks none of this is orthodox. You'll just love all the Jesuit institutions with coed dorms dedicated to educating students for competence, conscience, and compassion. Two of Georgetown University women's studies professors are also employees of the Planned Parenthood Federation of America so you just know the new Jesuit tradition is unrestrained sex without consequence which our cameras have captured.
Enjoy the Jesuit advantage that has long dropped stiff and rigid views of sexual morality. Increase your intellectual and spiritual strength and at the same time give into your libido.
So order now though there is no hurry since the odds of most bishops following and enforcing Ex Corde Ecclesiae is lower than the chance of Cardinal Mahony celebrating the Mass in Latin or the Bishops Conference doing something other than appointing another commission to study something.