The summer before his senior season, Joe Freedy approached his personal line of scrimmage and surveyed the field. The University at Buffalo quarterback knew the options at his disposal.
Freedy peered to his right and found comfort that a primary route was starting a family with the girlfriend everyone adored. He glanced to his left and recognized he could use his communications degree for a possible career in sales.
He then swallowed hard and made one of the most momentous audibles a man could imagine. He checked off the possibility of a wife and children, checked off on the sales gig, checked off on a life virtually everyone else in the world would consider normal.
Freedy, the starting quarterback of a Division I football team and big man on campus, decided to become a priest.
"It was a huge tug on my heart," Freedy said, "but the Lord was calling me to this."
Freedy is studying at the epicenter of an extraordinary time in the Roman Catholic Church. Since graduating from UB in 2002 as one of the school's top all-time passers, he received his master's degree in philosophy from Duquesne and last August was assigned to the Pontifical North American College at the Vatican.
He twice met Pope John Paul II and was in Rome for the pontiff's death and stirring funeral.
The 26-year-old from suburban Pittsburgh also saw the white smoke billow and stood beneath the window when Pope Benedict XVI gave his first papal blessing. Freedy on Wednesday served Benedict XVI during the Solemn Mass of Sts. Peter and Paul in St. Peter's Basilica.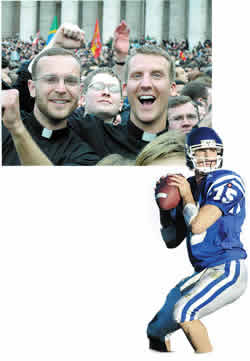 …The seminal moment of Joe Freedy's epiphany could be traced to a book his dad gave him during Christmas break of his junior year.
"The Lamb's Supper," by Scott Hahn, details in layman's terms the Eucharist, the sacred portion of the Catholic Mass that re-enacts the Last Supper and transforms bread and wine into the body and blood of Christ.
Freedy compared "The Lamb's Supper" to a football playbook drawn up for fans.
"Before I read this book," Freedy said, "I'd go to church every Sunday for an hour, I'd be bored, listen to some bad music, finish, and as soon as I was done I would forget about God until the next week. (The book) just takes the reality of the Mass and it explains it in very simple terms, but in a powerful way."
Read the full article here.