In late March of 2004 the design of the church for Ave Maria took heat from pundits (including me) for both an ugly design and the silliness of creating a glass building in Florida.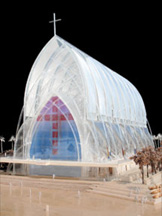 With the announcement of a newer design for the oratory critics are still not happy. Though critics have decided that it sucks less than the original so obviously progress is being made.
The design team feed up with the comments have decided that a more traditional approach was necessary but were hesitant to totally scrap the design. To return to old time religion what better than to appeal to old time radio and thus the new design concept has been unveiled.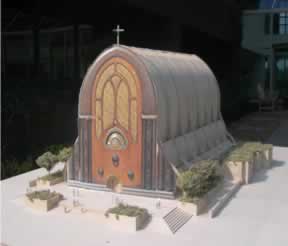 The interior has also been redesigned to follow the new theme.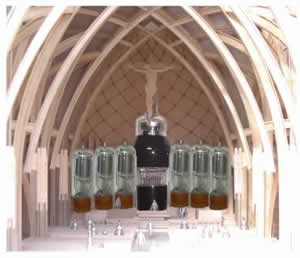 Soon be be unveiled will be the all new "Radio Stations of the Cross" to decorate the interior. Mass reading will be read by a professional announcer unseen by the participants and a sound effects crew armed with sheet metal for thunder and other sound effect props will be used to assist the priest in bringing the homilies alive. The clip-clop sound using coconuts can be used to bring St. Paul's conversion alive just prior to his falling off a horse which of course can be followed up with the crashing sounds as he hits the ground. The new radio theme will be used to bring about radio-active participation as called for by Vatican II.