Guided by ultrasound, the abortionist grabs the baby's leg with forceps. The baby's leg is pulled out into the birth canal. The abortionist delivers the baby's entire body, except for the head. The abortionist jams scissors into the baby's skull. The scissors are then opened to enlarge the hole. The scissors are removed and a suction catheter is inserted. The child's brains are sucked out, causing the skull to collapse. The dead baby is then removed.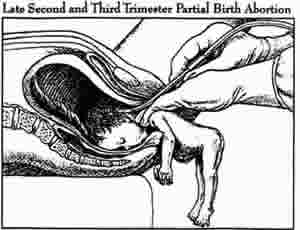 "If I read this to you and did not tell you that it was an American doctor describing what Americans had done to patients in their control, you would most certainly believe this must have been done by Nazis, Soviets in their gulags, or some mad regime — Pol Pot or others — that had no concern for human beings. Sadly, that is not the case. This was the action of Americans in the treatment of their patients."

Sen. Dick Durbin D-Illinois (Catholic)
Oh wait – I slightly doctored his quote. Sen. Durbin was not talking about abortion because he was talking about treatment of terrorists at Gitmo. Because he:
Voted NO on criminal penalty for harming unborn fetus during other crime.
Voted NO on banning partial birth abortions except for maternal life.
Voted NO on maintaining ban on Military Base Abortions.
Vote on a motion to table [kill] an amendment that would repeal the ban on privately funded abortions at overseas military facilities.
Voted NO on banning partial birth abortions.
Voted NO on disallowing overseas military abortions.
Durbin scores 100% by NARAL on pro-choice voting record
Wants to expand embryonic stem cell research.
Maybe if we can pass a law to move all abortion clinics to Gitmo and for abortion to be administered by the military. Then as a result we can finally get abortion outlawed.
Now I am not trying to be a relativist and to deny that possibly some acts performed at Gitmo truly come under a Catholic definition of torture.
"Whatever is hostile to life itself, such as any kind of homicide, genocide, abortion, euthanasia and voluntary suicide; whatever violates the integrity of the human person, such as mutilation, physical and mental torture and attempts to coerce the spirit; whatever is offensive to human dignity, such as subhuman living conditions, arbitrary imprisonment, deportation, slavery, prostitution and trafficking in women and children; degrading conditions of work which treat labourers as mere instruments of profit, and not as free responsible persons: all these and the like are a disgrace, and so long as they infect human civilization they contaminate those who inflict them more than those who suffer injustice, and they are a negation of the honour due to the Creator" –Gaudium et Spes
If Sen. Durbin had actually addressed and argued that specific acts as truly being offensive to human dignity instead of comparing the interrogations done by our military to some of the most brutish and hellish regimes ever he might have actually had some valid points. Instead he engaged in the worse forms of moral equivalency. It is just ridiculous that he can see removing a terrorist's air conditioning as torture and vote to allow baby brains to be sucked out during the process of birth .
Now I myself could possibly consider being subjected to the music of Christine Aguilera as torture and I am tempted the next time I ride a elevator and am subjected to Musak to file an appeal to the International Criminal Court or maybe the next time a hurricane causes me to lose air conditioning for days on end I might also have a case.
Jimmy Akin partially covered the topic of torture before.