Mark C. N. Sullivan of Irish Elk comments on the lastest Vosko
deconstruction in what is suppose to be renovation of the Cathedral in Rochester, NY.
When he said that the diocese encourages visitors to go on a "Holiness Hunt" in the renovated cathedral I thought that might be a just.
Unfortunately that is the term they use.
Though I think it is the perfect definition for what many have to go through to find the Tabernacle. The level of difficulty in playing Where's Jesus makes Where's Waldo simple simple by comparison. Mark links to various picture and articles about the Cathedral's renovation (which was fought for years by a group of parishioners) including this picture of a comparison old and new.
All I know is that if I walked into this Cathedral after not being there for a couple of years I would immediately call the police certain that thieves had ransacked it and carried away almost all the sacred items. Or possibly request "Beam it back down Scotty!" Speaking of Star Trek, maybe I am too much of a SF geek, but I find the new Bishop's chair to strike an amazing resemblance to Captains Kirk's chair.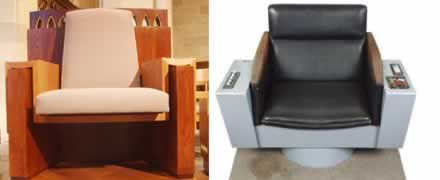 As with many restorations the Tabernacle has been removed to a side chapel though at least they had managed to rescue a beautiful Tabernacle from a church that had burned down.
The voiceover on this page concerning the box altar said that the Church mandates that the altar with the presider be brought admist the people in this case into the center of the church. This is normally what annoys me the most is that they say that the Church has mandated or called for this type of change. I attended a Mass at one church just before they were to move into their new church. I remember being pretty steamed when the priest said that the Vatican had instructed that they had to move the Tabernacle from the center. Maybe that priest really believed this to be true, but it would have been nice if they had actually looked at the relevant documents before making the decision and passing out mistaken information. He also stated that many had complained about the change, but that there was nothing they could do about it. This was the same church (that I no longer go to) that has 2000 C.E in large letters displayed on their school. Using Common Era on a Catholic School is just one of the silliest things I have seen.
The Eastern Catholic Churches went though an iconoclastic period and corrected it with even more beautiful churches. Mark also linked to an Easter Orthodox Church in the same area. I can only hope that we in the West we make up for our own stark iconoclastic architecture.
My own parish was also recently restored. The difference, as you can see below, is that we didn't have a beauty-hating architect do it.