Today is international "Women are ignored by the male hierarchy and not allowed to make an impact day." Well actually today is the memorial for St. Catherine of Sienna, Virgin, Doctor of the Church. A lay women and Third Order Dominican who counseled popes and world leaders. I have often wonder if her mother Lapa Benincasa had been around today how she would have been treated. You can just imagine the reaction of those self appointed procreation police to the news that she was pregnant with her 23rd child. I have read stories around St. Blogs of women telling their stories about people making snide comments about the size of their families. Most recently Smockmama of Summa Mamas relayed a story of her dog's vet in response to her being pregnant with twins (number five and six). The history of the world and the Church in particular would have been quite different if Catherine's parents had been part of and bought into a contraceptive culture.
St. Catherine was the model reformer. A mystic with a deep contemplative prayer life who was active in the world. Totally obedient to Christ and his Church and rebuking those who were not living out those truths. Her efforts ended the Avignon papacy and returned the pope to Rome and she also worked to help heal the problems brought about by the election of an anti-pope. It really annoys me when I red Call to Action or VOTF types who bring up St. Catherine and pretend that they are following her example. Instead they are a mirror image in that instead of holding themselves and others to the truth as taught by the Church, they want to change what the Church teaches to bring it inline with their own thoughts.
You can read her spiritual masterpiece "The Dialogue" here to see exactly why she is a Doctor of the Church.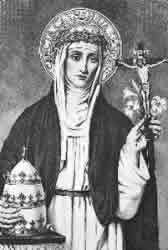 I like this nicely symbolic representation of her both holding up Christ on the cross and embracing the mitre worn by the pope.
Tom at Disputations as usual has interesting thoughts about St. Catherine.