Dawn Eden gives a well deserved fisking to a post in Planned Parenthood's SaveRoe blog. Planned Parenthood all upset about Focus on the Family's Operation Ultrasound which is working to equip 650 crisis pregnancy centers with ultrasound machines by the 2010 using privately raised money.
For all the talk about pro-choice I guess this does not include a visual choice. Reality must be hidden at all cost.
NARAL's director of government relations had previously said concerning ultrasound machines
"They don't want them to go to Planned Parenthood, where they'll get their full range of options. They just want them to go to crisis pregnancy centers, where women will be exposed to this weapon at taxpayer's expense."
Well this time the machines are provided from private sources yet they are complaining that the amount raised will be more than they get from the federal government. Not surprising when showing the truth as something can be described as a weapon.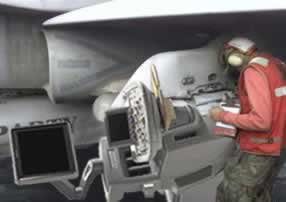 Here is a picture of an Aviation Ordanceman loading and doing the final check on a ultrasound machine weapon to be dropped on emergency pregnancy resource centers.