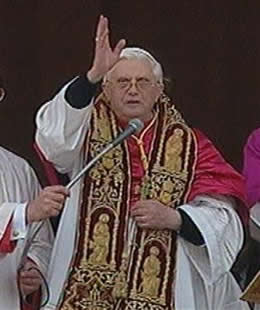 Right now I am so full of adrenaline I think I could explode. Thank you Lord for Pope Benedict XVI. All of the news build up about Cardinal Ratzinger appearing to be favored I took with a large grain of salt. I have had nothing but admiration for this man as I have read his books since coming into the Catholic Church. His insights and understanding about the problems the Church faces in the modern world are excellent. His book on the liturgy, which I think should be required reading, is magnificent in his presentation of what should be the "reform of the reform" when it comes to the liturgy. His announcement as Pope to me is like Charlie Brown finally getting to kick the football that Lucy was holding. How many times did we hear "enter a pope, leave a cardinal" or that probably somebody who we don't even expect will be elected pope. I am currently in the middle of his book "God and the World" which is a fairly long book where he answers questions put to him by Peter Seewald. Reading the answers he gave I often though what a magnificent pope he would make.
Of course besides having this wonderful man as Pope we get the added bonus of him really annoying the dissidents. Probably one of the quietest place on earth was the offices of the National Catholic Reporter. For myself I was jumping up and down and screaming with excitement when his name was announced. All those who had hoped for changes in the doctrines of the Catholic Church now know that it isn't going to happen any time soon. No matter though who was elected this would have been true, it is just that they now realize it and once again will have to fallback to "maybe the next pope." position
Before I started reading Catholic blogs I had been following Christopher Blosser's Cardinal Ratzinger Fan Club, which for some reason is unavailable (possibly all of a sudden having millions of hits might have something to do with it). I am all for the Pope Benedict XVI fan club.
Here is a post I did before that included our new Holy Father is his superhero persona as "Magisterial Man."