Matt C. Abbott sent me this link to a rather unique tabernacle.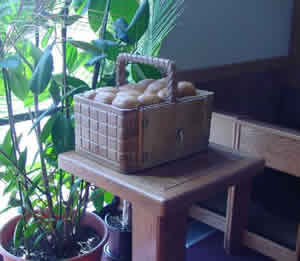 Bread Basket Tabernacle
The design of this tabernacle is not really to my tastes. Though I guess there are advantages. No time spend shining and polishing. Thieves breaking in to steal a gold tabernacle will pass this one right by. Possibly a hungry vagrant might steal it thinking he will have a meal for later. To be fair though, this tabernacle was designed with the 51 Claretian Martyrs in mind. They sometimes hid consecrated hosts among the breakfast bread. No tabernacle no matter how beautiful can accurately reflect the beauty of the Eucharist.
This does make me wonder if the pastor keeps the Church funds in one of those fake books in the library or the keys to the church in one of those fake bricks laying in the garden. Possibly funds are given to the poor in Chinese puzzle boxes. If they can open them they can have the money inside.