I got a good laugh out of this post from Christopher at Against the Grain
FOREIGN LEADERS LOVE MY BLOG!!!
THEY TOLD ME "IT RULES!" . . . "IT'S THE BOMB" . . . "IT POSSESSES GREATER INTELLECTUAL PROWESS and CHARISMATIC APPEAL THAN InstaPundit, Mark Shea and The Corner COMBINED!!!"
However, like Sen. John Kerry, I refuse to betray their confidence by revealing there identities.
Well personally I totally believe what Sen. John F. Kerry said. I have no doubt that there are foreign leaders that would want President Bush outed and Mr. Kerry as President instead.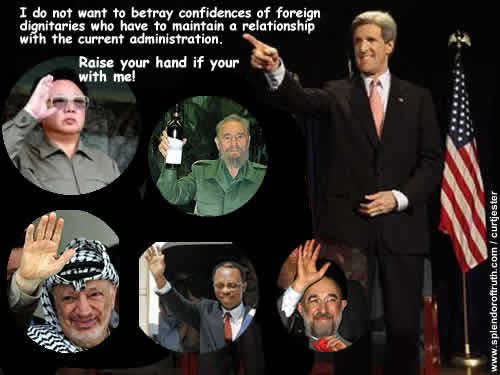 If Saddam Hussein didn't have new living arrangements he would probably give an endorsement also.
I also think that President Bush should announce that Foreign Leaders have told him they have evidence of WMDs in Iraq. When John Kerry challenges him on who these foreign leaders are, Mr. Bush can say "I'll show you mine if you show me yours."