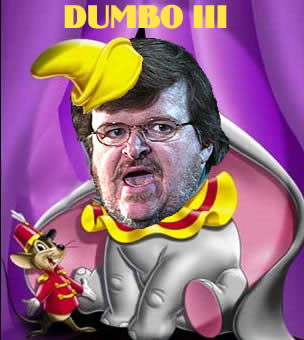 The WALT DISNEY CO. is set to spend millions financing
a new explosive Bush-bashing documentary from Michael Moore [BOWLING FOR COLUMBINE]
— a documentary which claims bin Laden was greatly enriched by the Bush family!
DISNEY, via subsidiary MIRAMAX, has agreed to cover the production costs,
said to be in the millions, of Moore's planned FAHRENHEIT 911.
[Full Story]
The Curt Jester has learned that in return for financing his next film that
Mr. Moore has agreed to play Dumbo in the upcoming Dumbo III and to also call
any further films he makes Donald Duckumentaries. Miramax films stated "When
you think of a big fat dumbo who comes to mind first but Michael Moore, so
this is a win win situation for us."