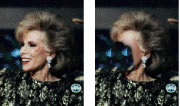 For the second time this week tragedy has struck
an historic outcropping. Earlier this week New Hampshire awoke to find its
stern granite
symbol
of independence and stubbornness, the Old Man of the Mountain, had collapsed
into indistinguishable rubble. Last night during an awards ceremony for worst
dressed celebrities Joan Rivers face collapsed while hosting the awards. Her
plastic surgeons had used cables and epoxy to try for years to keep
the famous profile from falling from erosion and the natural freeze-and-thaw
cycle. They had warned that a collapse was inevitable, but
few thought they would live to see it. Dr. Werner, plastic surgeon to the stars,
publicist said "He had warned Mrs. Collins about the extreme tension
on her face from repeated face lifts. She had signed a disclaimer after the
Doctor was unable to measure her facial torque after her last surgery with
the industrial eequipment he had in his office." Bystanders were counting there
blessings that no one was hurt. High velocity facial particles were found as
far as a
hundred feet from the lectern.