During lunch I noticed the activity in my news reader regarding an interview Pope Francis gave today on the airplane. I had already come to the conclusion that if pope's never again gave an interview on a plane trip that would be just fine.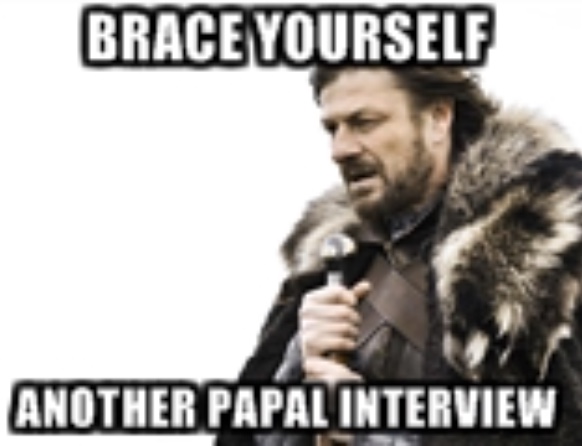 The medium of an interview on a plane just is really not that helpful for the mission of the Church. It really doesn't matter who is Pope when it comes to this not being helpful. When Pope Benedict XVI gave an interview inflight and mentioned condoms there was a total media freak out and tons of bad reporting. For the most part reporters are not out to spread the truth, but to get headlines and if they can craft an agenda it is even better. Asking questions on controversial topics is one way to achieve this. Although often it is not the questions themselves, but how they get reported. I can't remember the last time I thought "That was an accurate representation of what the Pope said" when I read a story.
Pope Benedict XVI often spoke off-the-cuff as if he had written something out previously and was fully formed. Yet that didn't stop the press from distorting what he said. Pope Francis when speaking off-the-cuff if often not that precise and he casually talks trying to fill out the answer. So of course this just gives the media more room to play with. Still there is much that I like about the casual way Pope Francis speaks as he often reveals information about processes pope's usually don't share. For example in the latest interview I found it rather fascinating his talking about the development of the latest encyclical regarding development of the initial draft, his working on it, and the further review process still ongoing. I enjoy how he does this with good humor.
Still the main problems with journalism is that so often it distills complex subjects with necessary caveats into a textual sound bites. The textual sound bite is often what the headline plays off of. The other piece of deception is how several paragraphs are distilled down to less than a paragraph. The ellipsis is the reporter's friend in this in that you can boil out all context and just print the juicy bits. So when he was asked about religious liberty and freedom of expression 455 words got distilled down to a couple sentences. This was brought about to bring about controversy with the Pope showing a moral equivalence between the terrorist murders of the staff of Charlie Hebdo and the satirizing of (not a prophet) Mohammad. When I saw all the ellipses in news stories I figured I will wait for a full transcript.
Thankfully the National Catholic Register was fairly quick in releasing a full transcript.
Sebastien Maynard (La Croix): Holy Father, yesterday during Mass, you spoke about religious liberty as a fundamental human right. With respect to other religions, how far can the freedom of expression extend, since this latter is a fundamental human right, too?

Pope Francis: Thanks for the question, that is smart, it is good. I think that both are fundamental human rights, religious liberty and liberty of expression. You can't … Let's think, are you French? Let's go to Paris. Let's speak clearly. You cannot hide a truth. Everyone has the right to practice their religion, their own religion without offending, freely. And that's what we do, what we all want to do.

Secondly, you cannot offend or make war, kill in the name of your religion, in the name of God. What has happened now astonishes us. But always, let's think to our history, how many religious wars we have had. Think of St. Bartholomew's night (editor's note: when Catholics massacred Huguenots during the French wars of religion in 1572). How can we understand this? Also we were sinners in this. But you cannot kill in the name of God, this is an aberration. Killing in the name of God is an aberration against God. I think this is the main thing with freedom of religion. You can practice with freedom without offending but without imposing or killing.

The freedom of expression … Every one of us has not just the freedom, the right, but also the obligation to say what he thinks to help build the common good. The obligation. If we think of a congressman, a senator, if he doesn't say what he thinks is the true path, he doesn't collaborate in the common good. We have the obligation to freely have this liberty, but without offending. It's true that you cannot react violently. But, if Dr. Gasbarri, my great friend, says something against my mother, he can expect a punch. It's normal. It's normal. You cannot provoke, you cannot insult the faith of others, you cannot make fun of the faith.

Pope Benedict, in a speech, I don't remember which, he spoke of this post-positivist mentality, of the post-positivist metaphysics that brought people to believe that religions or religious expressions are a type of lower culture: that they are tolerated but that there's not much to them, that they are in not part of an enlightened culture. And this is a legacy of the Enlightenment. So many people speak against others' religions. They make fun of them. Let's say they "giocatalizzano" (make a playing out of) the religion of others. But they are provoking, and what can happen is what I said about Dr. Gasbarri if he says something about my mother. There is a limit. Every religion has dignity; I cannot mock a religion that respects human life and the human person. And this is a limit. I've used this example of the limit to say that in the freedom of expression there are limits, like the example I gave of my mother. I don't know if I was able to respond to the question. Thanks.
Some how the moral equivalence got lost in translation. Now there are parts to pick apart here and there and there are certainly aspects of this I would have questions and caveats about. But generally I understand the point Pope Francis is making.
I pretty much agree with Thomas L. McDonald's quick critique of one aspect of this answer.
The Holy Father and I are going to have disagree on this one.

"Should not"? Certainly.

"Cannot"? No.

"Every religion has its dignity"? Every one? Eh, not so much.
I totally enjoyed his one word reaction to the Pope's "But, if Dr. Gasbarri, my great friend, says something against my mother, he can expect a punch."
Dude.
Shades of St. Nicholas and Arius.
Back to the central point about papal inflight interviews I just don't see their usefulness since they always generate more heat than light. Yet I can totally understand how easy it is for them to come about and this is even more true for this gregarious pope who loves talking to people.
Hey remember when Pope Francis said on his flight to Brazil for World Youth Day:
It is true that I do not give interviews, but why, I do not know, I can't, it's just like that. For me it is quite an effort to do so, but I thank all of you here.
Good times.