Shouts in the Piazza displays an ad in my diocesan magazine St. Augustine Catholic.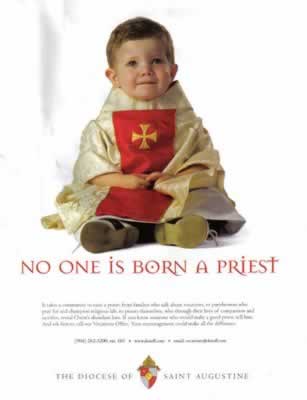 It takes a community to raise a priest; from families who talk about vocations, to parishioners who pray for and champion religious life, to priests themselves, who through their lives of compassion and sacrice, reveal Christ's abundant love. If you know somebody who would make a good priest, tell him. And ask him to call our Vocations Office. Your encouragement could make all the difference.
(904) 262-3200, ext 101 wwww.dosafl.com email: vocations@dosafl.com
This is a great ad. In other news my diocese is ordaining three men this month.