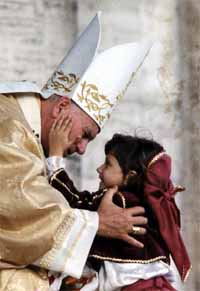 Thank you Holy Father. Today we have lost more than just a papa and a philosopher, but truly an alter Christo – another Christ. Thank you Jesus for sending this man to us for we have all been blessed by his presence.
I thought I was prepared for this moment and had felt no real sadness until the news of his passing. We have had years to prepare ourselves for this moment, but I will really miss him – especially his radiant love of young people. I am sad for myself, though truly joyful for the Pope.
At one point, according to Cardinal Pomepedda who went in to visit him, he asked those in the room with him not to cry, but to join him in joy as he prepares to stand before Jesus.
Please pray for the Holy Father and for our Cardinals that they will be moved by the Holy Spirit in the selection of our next Pope. If he is half as holy as John Paul II the Great (no longer to be called frail) we will be blessed indeed.