The Synod of Bishops on the Bible heard an unusual suggestion Tuesday morning when a Hong Kong observer asked Pope Benedict to start up his own daily blog on Scripture.
Agnes Kam Leng Lam, president of the Catholic Biblical Association of Hong Kong, said people need to experience Scripture in small but significant doses.
"To put it in a nutshell, I'd like to suggest to you Holy Father to start a multi-language blog to shepherd today's world by scriptural verses, daily verses," she said on the synod floor. The pope's blog should include simple reflections that relate Scripture to real-life situations, she said.
Lam included advice that's probably good for any blogger: "Remember, brief texts, Holy Father, and plentiful images, and this will be very attractive to the young generation and to today's people."
The talk apparently provoked a positive reaction and some laughter, but the pope, who was presiding over the Oct. 5-26 assembly, didn't say whether he'd be blogging anytime soon.
[Via American Papist]
Please Holy Father, I want my Pope Blog! I want my daily minimum recommended requirement of B16! Benedict XVI, Bishop of Rome, Vicar of Jesus Christ, Successor of the Prince of the Apostles, Supreme Pontiff of the Universal Church, Primate of Italy, Archbishop and Metropolitan of the Province of Rome, Sovereign of the State of Vatican City, Servant of the Servants of God, and blogger.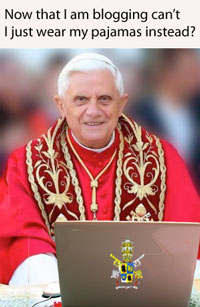 All I know is I want so much to be on the Pope's blogroll!
Now Pontifications is already take up by a couple of bloggers so what would be the name of the Pope's blog?
On This Rock
Papal Bull
Pontifix Blogimus
Straight Dope from the Pope
InstaPapal
Peter #266
Supreme Blogger of the Universal Church
It's good to be the Pope!
Mass Communication
or of course "German Shephard"
but it will certainly not be "Red Shoe Diary"
Denzingers would have to start compiling official papal blog posts.
Now what type of syndication would the blog use? RSS 2.0 or ATOM and Eve?
What Content Management System (CMS) would he use. Now Movable Type could be appropriate since the first thing printed on a movable type press was the Bible. Though a scripture blog might use WordPress or WordOfGodPress.
Commenting, now that is another story. Probablly not a good idea unless they can incorporate automatic excommunication for trolls in the commenting template. Or maybe a CAPCHA where you have to answer correctly basic questions on the faith to submit the comment. Though that might keep out many graduates of Catholics schools. Maybe a CAPCHA with felt banner images for them.
The pope could ask for donations to Peter's Pence safely and securely via PaPal..
Now what platform would his blog be run on? I guess he would need White Hat Linux (or is that Linus after our 2nd Pope) instead of:.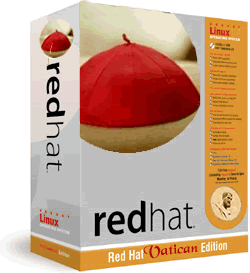 Though he might need to run a disclaimer that only blog posts that defines a doctrine regarding faith or morals to be held by the universal Church are infallible. Otherwise he is speaking ex blogthedra.