American
Papist has exclusive photographs of the pulpit, lectern, and chair that were chosen to be used for Pope Benedict's U.S. visit in DC. Below is the winning design.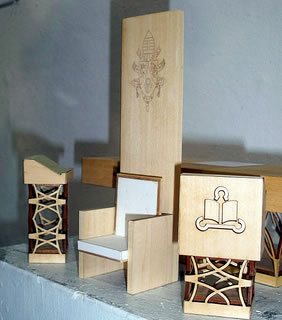 Makes me wonder how bad the losing designs were? I could try to describe what my first impression was of the Pope's chair and the image that came to mind, but I think it is better to show you what came to mind.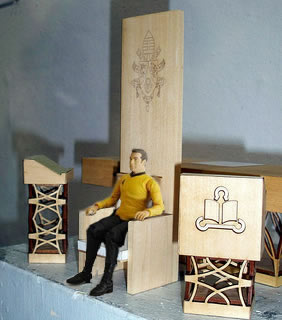 The chair immediately reminds me of what I think would be the perfect chair if Captain James T. Kirk was elected Pope. Surely he would feel right at home in such a chair. I have commented on Kirk chairs used as celebrants chairs in the past, though this is the first Papal Kirk chair I have noticed. Maybe IKEA is now designing liturgical furniture?
Now the design is not exactly ugly, but beauty does not come to my mind when I look at this rather cold and stark set. The designs on the pulpit and lectern are kind of interesting, but incongruent and they bring nothing to mind of the Church. They could easily be used in any non-liturgical setting without looking out of place in for example an auditorium.
It does make me wonder about Captain Kirk as Pope on the U.S.S. Vatican. Currently though we do have theologians who have gone where no theologians have gone before
In fact I think many bishops have a Prime Directive towards theologians in their diocese – that is a non-interference policy – I guess in hope that one day they might develop intelligent life.
I would like to see a Star Trek movie
developed along Kirk as Pope lines – surely if the Enterprise could
visit one planet with Cowboys and another with Gangsters, and so surely there is a parallel world that is explicitly Catholic.
How about "The Wrath of Kung"?
Pope Kirk: Kung is denying my Papal authority again! We must return to Switzerland. Scotty give me warp factor nine and your opinion on Kung's latest treatise.
Cardinal Scotty: Captain, I am engineer not a theologian!