A reader sent me a sample of how New Line Cinema is deceptively using a review from the USSCB's Office for Film & Broadcasting.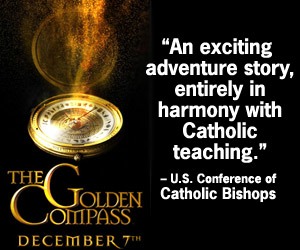 First it is dishonest to say that it is the USSCB that said this, but that is the least of the problem.
The part they put in quotes does not actually exist in the review. They have cobbled it together from two different sections of the review.
Whatever author Pullman's putative motives in writing the story, writer-director Chris Weitz's film, taken purely on its own cinematic terms, can be viewed as an exciting adventure story with, at its core, a traditional struggle between good and evil, and a generalized rejection of authoritarianism.
and
To the extent, moreover, that Lyra and her allies are taking a stand on behalf of free will in opposition to the coercive force of the Magisterium, they are of course acting entirely in harmony with Catholic teaching.
They didn't even do a Maureen Down and put in ellipses.
I sent off some emails to New Line Cinema's Press Contacts, though I doubt if I will get a reply.
Though I also do wonder how non-Catholics might see the endorsement and if if it a negative in their case?
Update: New Line Cinema emailed me back with this reply "We have been alerted yesterday about this matter and we have changed the text — it takes 24 hours for the online change and it will happen sometime today –." So if anybody sees the new text of the ad let me know what it is.