I am so glad there is a good explanation for giving Communion to the Sisters of Perpetual Indulgence.
"At Most Holy Redeemer Church Oct. 7, I noticed no protest, no demonstration, no disruption of the Sunday Eucharist," said Archbishop Nierderauer. "The congregation was devout and the liturgy was celebrated with reverence. Toward the end of the Communion line two strangely dressed persons came to receive Communion. I did not see any mock religious garb. As I recall, one of them wore a large flowered hat or garland."


Who knew Mr. Magoo became a Bishop?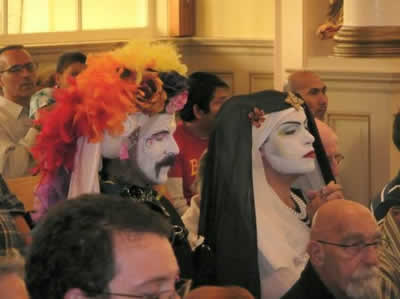 This picture could be used as a eye test for prospective Bishops.
Doctor: Tell me what you see?
Prospective bishop: I see a flowered hat.
Doctor: Nothing else.
Prospective bishop: Nothing out of the ordinary.
Doctor: Next applicant.
Accepting his explanation the real question is what would he have done if he did know they were part of the Sisters of Perpetual Indulgence? Though I guess we already know that since he had no problem giving Communion to Nancy Pelosi.
Though I guess the primary question is what does he think the spiritual effects are for a person receiving Communion who have committed objectively grave sins? I know St. Paul's answer, I just wonder if his would match? The scandal this causes is quite secondary to the concerns for the souls of these people.
Update: American Papist has his own commentary on this that is quite excellent.