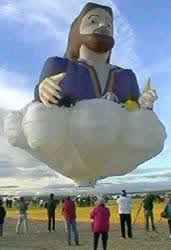 If you live in the United States, England, or Wales you know what today is. It it is the Feast of the Rant that today is not Ascension Thursday. Last year the Bishops of England and Wales joined the U.S. in moving the Ascension to Sunday so I welcome those who live their to commiserate with us. On the "Feast of the Rant that today is not Ascension Thursday" it is traditional for bloggers in these countries to gripe about the movement of this feast especially newer bloggers who have not yet posted on this subject. Though if you live in Bishop Bruskewitz's diocese than today is a Holy Day of Obligation.
Though I think we should add a new tradition to the "Feast of the Rant that today is not Ascension Thursday" in that those who do not already go to Daily Mass go to Mass today anyway. You really don't need any special reason to want to go to the Holy Sacrifice of the Mass, but if you need one then celebrating the Ascension with the rest of the Catholic world is a nice bit of solidarity. Joana Bogle also suggests going to Mass today. This is the only type of Mass protest that is acceptable. It would be wonderful if more and more people each year did choose to go to Mass today and celebrate with the rest of the universal Church and lead by example so perhaps the bishops were led by this example and rethink the minimum weekly dose of Catholicism mentality. You know – we can't expect you to make a sacrifice to go to the Holy Sacrifice of the Mass. In between rants perhaps we can even pray for our bishops today.
For those bishops who think the laity can't be bothered with going to Mass two times within a week I have but one thing to say to you – Ash Wednesday.
Now for both a lighter and deeper tone here is what I think is an appropriate paragraph from the Holy Father's wonderful new book Jesus of Nazareth in the chapter on the Our Father prayer p. 150.
And in this light, we now understand that Jesus himself is "heaven" in the deepest and truest sense of the world — he in whom and through with God's will is wholly done. Looking at him, we realize that left to ourselves we can never be completely just: The gravitational pull of our own will constantly draws us away from God's will and turns us into mere "earth." But he accepts us, he draws us up to himself, into himself, and in communion with him we too learn God's will. Thus, what we are ultimately praying for in the third petition of the Our Father is that we come closer and closer to him, so that God's will can conquer the downward pull of our selfishness and make us capable of the lofty heights to which we are called.
So let us today also ascend in prayer and resist "The gravitational pull of our own will" or as Chesterton said (and the Pope also quoted last year) "Angels can fly because they can take themselves lightly."
Update: man with black hat weighs in.