A reader sent me the following story.
Vatican City, 18 Dec. (AKI) – The Vatican could soon have a top football team, the Secretary of State, Cardinal Tarcisio Bertone, has said. "I am not ruling out that the Vatican could in the future have a soccer team of great value able to compete with (Italian top Serie A league teams) Roma, Inter, Genoa and Sampdoria," Bertone, the Vatican's equivalent of a prime minister said on Sunday. The cardinal, a staunch supporter of fallen Serie A giants Juventus – which was relegated to Serie B this season following a match-fixing scandal – is a football expert who used to comment soccer matches for a local television when he was archbishop of the port city of Genoa from 2003 until his appointment as secretary of state this year.
Bertone had already hinted a few weeks ago at the Vatican's football ambitions.
"If, for example, we were to recruit Brazilian players from our pontifical universities we could set up a great team," Bertone was quoted as saying by Rome daily La Repubblica. The cardinal added that the Vatican could also discover young talents in parish teams saying that "in the 1990 World Cup I noticed that 42 players from different national teams originally came from parish recreation centres."
Bertone is not the only soccer enthusiast at the Vatican.
Another cardinal, Fiorenzo Angelini, a supporter of Serie A team Roma, is a commentator of premier league matches for Vatican Radio and Sat2000, the TV network of the Italian Bishops' Conference (CEI).
This is a serious story as evidenced by this exclusive photo of Pope Benedict XVI trying out as goalkeeper.
* I first saw the photo at Shrine of the Holy Whapping with their own hilarious caption.
My reader suggests a name that team contest for the Vatican Soccer team.
Pope John Paul II previously set up a sports department at the Vatican with ""the very intention of making the Holy See's solicitude felt in the world of sports". I did a previous post on this topic and include part of it here with some additions.
Here is the previous Holy Father doing his part.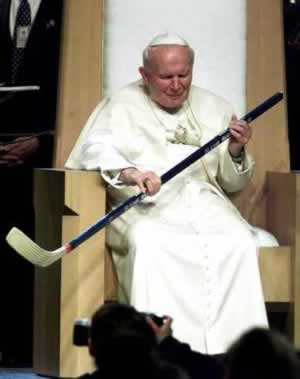 This appears to be a Vatican department to help to help re-inject fundamental values of fairness, ethics, transparency and legality into sports as its stated aim. Now I think real Vatican sport teams would be cool.
Like the Vatican Cardinals.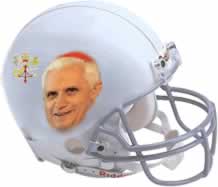 Where all passes are Hail Marys. Since there is a college of Cardinals certainly they can have college football.
Now the Vatican must have some real good athletes because newspaper headlines are always using adjectives like, bash, attack, smash, flay, irk, assail, denounce, hurt to describe their actions (and this small sample was taken from headlines just this week).
Other possible sport team names are:
Tiber Tigers
Spanish Inquisition (nobody would ever expect them)
Fighting Papists
Milwaukee Brewing Monks
Papal Bulls
The Mighty Magisterium
The Church Militants
Crusaders
Curia Commandoes
The Dye is Casteries
Holy Seehawks
Peter's Bite – After all the Barque of Peter is not worse than it's bite
I am sure you can come up with some great names of your own.