You can watch a 35 minute video of segments of the groundbreaking ceremony on the 60 acres of land on which the new headquarters for Priests for Life and the Missionaries of the Gospel of Life will be built.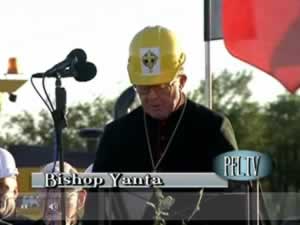 Check out Bishop Yanta's snazzy construction mitre. Though Cardinal Ranato Martino had a nice bright red one. Towards the beginning of the video it shows Fr. Pavone in the new habit of his order. All white like the Dominicans but with a picture of Our Lady of Guadalupe on the front. Quite a beautiful habit.
Also shown speaking in the video are Norma McCorvey of Roe v. Wade, Alveda King, and Bob Schindler, and a few others.
Update: A reader lets me know I probably mistook a chasuble for a habit.