Gerald at The Cafeteria is Closed covered a lot of bishop and Cardinal news yesterday the best though was the reaction from Bishop Bruskewitz's reaction to the USCCB bureaucracy.
Some woman named Patricia O'Donnell Ewers, who is the Chair of something called "A National Review Board for the Protection of Children and Young People", has said that her Board "calls for strong fraternal correction of the Diocese of Lincoln." The Diocese of Lincoln has nothing to be corrected for, since the Diocese of Lincoln is and has always been in full compliance with all laws of the Catholic Church and with all civil laws. Furthermore, Ewers and her Board have no authority in the Catholic Church and the Diocese of Lincoln does not recognize them as having any significance.
It is well known that some of the members of Ewers' Board are ardent advocates of partial birth abortion, other abortions, human cloning, and other moral errors. It is understandable then how such persons could dislike the Diocese of Lincoln, which upholds the moral teaching of the Catholic Church.
The words attributed to Ewers seem to confirm the suspicion that the members of her Board are unfamiliar with Catholic teachings, Catholic ecclesiology, and even the basic rudiments of the Catholic Catechism. Rather than concerning themselves with the Diocese of Lincoln about which they appear completely ignorant, Ewers and her colleagues would occupy themselves in a better way by learning something about the Catholic religion and the traditions and doctrines and laws of the Catholic Church.
The Diocese of Lincoln does not see any reason for the existence of Ewers and her organization.
I guess it is fitting that when someone at the USCCB thinks of fraternal correction they narrow their eyes on Bishop Bruskewitz. I remember the first time I heard about Bishop Bruskewitz before I was Catholic. I think it was 20/20 or some similar show that was covering his warning of excommunication to members of his diocese Back in 1996 he issued the following letter.
"All Catholics in and of the Diocese of Lincoln are forbidden to be members of the organizations and groups listed below. Membership in these organizations or groups is always perilous to the Catholic Faith and most often is totally incompatible with the Catholic Faith:
Planned Parenthood [Planned Parenthood is the nation's largest promoter and provider of abortion], Society of Saint Pius X (Lefebvre Group), Hemlock Society, Call to Action, Call to Action Nebraska, Saint Michael the Archangel Chapel, Freemasons, Job's Daughters, DeMolay, Eastern Star, Rainbow Girls and Catholics for a Free Choice.
Any Catholics in and of the Diocese of Lincoln who attain or retain membership in any of the above listed organizations or groups after April 15, 1996, are by that very fact (ipso-facto-latae sententiae) under interdict and are absolutely forbidden to receive Holy Communion. Contumacious persistence in such membership for one month following the interdict on part of any such Catholics will by that very fact (ipso-facto-latae sententiae) cause them to be excommunicated. Absolution from these ecclesial censures is "reserved the Bishop." This notice, when published in the Southern Nebraska Register, is a formal canonical warning.
I remember being impressed by him on the show since even though I had not really started down the road into the faith. I remember reading later on that after this he received thousands of letters in support of his decision from all over the country and less than ten against it. After the Bishop's conference mandated that we should bow and not kneel when receiving communion he immediately granted a dispensation to this in his diocese. As Gerald mentions his diocese also has the highest vocation level per-capita in the U.S. Not exactly a shock to my readers that orthodoxy and a radical call to living the faith is the best environment for helping people to answer their vocations. Heterodoxy is a mule that doesn't create new generations. There will always be mules, but they won't by their very nature be populace.
But while I enjoyed the bishop's statement on the board, he might not in fact be right about its authority. Canon Lawyer Ed Peter's take on the authority of the USCCB's Charter for the Protection of Children and Young People in that the charter was approved by Rome as "particular law" and in fact binding on all the bishops in the US.
Update: Canon Lawyer Peter Vere has a different take than Canonist Ed Peters. Part 1, Part II.
Now we get to the anti-Bruskewitz – Cardinal Mahony and the latest dissident fest at this years religious education conference. It does make you wonder if in a alternate-universe if the two men had been switched with Mahony in Nebraska and Bruskewitz in L.A. Can their be any doubt that they would be building seminaries in L.A. and tearing them down in the diocese of Lincoln? That instead of inviting pro-abortion politicians and others to the cathedral that instead they would be denounced and prayed for instead. That liturgical abuses would be something theoretical instead of a daily experience. You can easily imagine that the sham known as the religious educations conference would be much different than it is know. Now as it stands not only are wolves allowed among the sheep but they are invited in and given silverware to make their dining easier. Some years back EWTN covered one of their conferences and not surprisingly they were not allowed to sit in on some of the conferences, at least with any recording equipment.
Though I guess I should be somewhat thankful to Cardinal Mahony because each year he gives me ample portions of things to parody. For example from the hula mass Hawaiian liturgy I came up with Lei Witness or my captioning one year of their photos.
Though it is getting rather boring since once you have seen one "arena liturgy" with dancing girls you have pretty much seen them all. Though there are always some pictures to have fun with.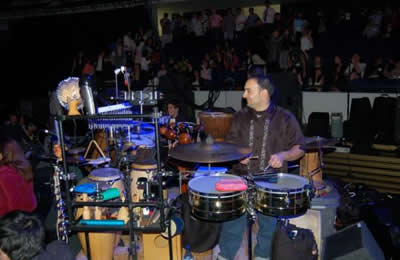 Shall I play for you, pa rum pum pum pum, On my drum? Please don't, I think I will stick with Neil Peart from Rush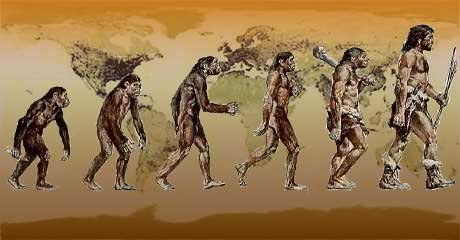 .
Monkey to Man.

Stages of Liturgist evolution (or is that liturgical deevolution).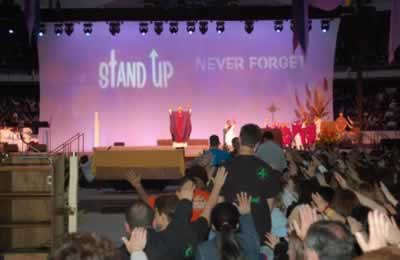 This years motto for liturgical posturing "Stand up -Never Forget" and oh by the way never kneel.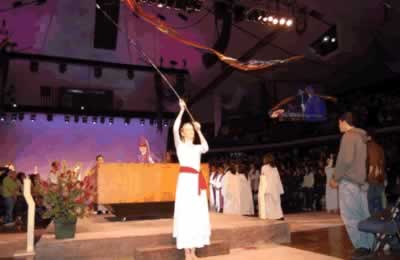 This man didn't listen and dared to kneel during the consecration.
He is about to be executed by a women brandishing a razor sharp pole.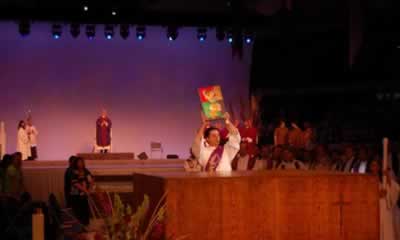 Deacon holds up the Diocese official version of the Kama Sutra.

"I have gestured you all to sing so start singing before I get mad."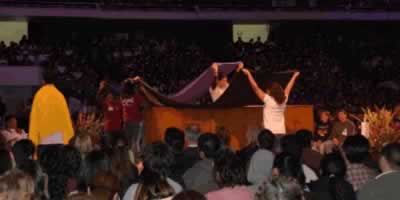 "Can't we just lay the altar cloth over the altar as usual instead of holding it up during the whole Mass?"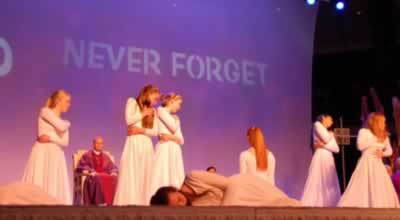 "This liturgical dancing is really tiring, I think I will take a nap"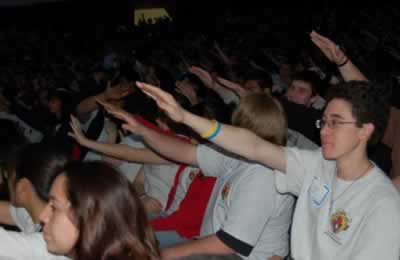 Heil der Mahony

Strings attached. Women puppeteer demonstrates her Marionette devotion
and skill with the new Cardinal Mahony marionette.
Though I guess the main reason I am so annoyed by these youth Masses is that it is understandable to try to reach out, but this is the wrong way to go about it. Speaking from my own experience toward the end of my high school years my mother converted to the Catholic Church and wanted me to go with her to Sunday masses. Being an atheist at that point this was not exactly something I wanted to do, but I did to please her. It was a very typical 1970s style liturgy in Portland, Or and the music was very modern with a high energy level. Since I love to sing I didn't mind it at all and even later joined their small choir of about four people. We sang from a prominent place on what I considered the stage. Growing up with a father who was an actor and puppeteer and doing a lot of shows myself I just considered the Mass a kind of performance of religious people. There was never anything in the homilies that bothered me as an atheist and it was fun to all hold hands and sway back and forth while singing "Day by Day" from Godspell. What I considered to be the audience did the same and the people even moved into the aisles between the rows to hold hands. This was all fun and entertaining it just wasn't about worship, transcendence, the sacrifice of the Mass. Calvary was conspicuously absent. I had no problem with the liturgy being all about me and directed to the people in the pews, after all I didn't believe in God. The problem with these contemporary liturgies is that they just don't prepare us for worship and love of God. Looking back I feel cheated that my exposure to the Catholic Church was a cheap performance instead of what it should be. Of course it doesn't mean that if my mother had dragged me along to a beautiful and faithful parish like Holy Rosary in Portland that my conversion had been much sooner, but it certainly would have been nice to be introduced to not only the beauty of the liturgy but the awesome beauty of the faith – even if my hard-headedness was not ready for it.