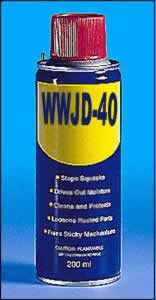 Introducing WWJD-40 an amazing product with a thousand and one uses. Jesus gave Peter the power to bind and loose and wouldn't you just love to be able to bind (but mainly loose) things yourself? Want to slip out of your vows or ease yourself comfortably through a
sticky moral bind? Then you need the conscience lubricant, WWJD-40. This patented lubricant uses a special material called Megisterium. If you want to decide what is right and what is wrong and everything is all about you then this is the product designed just for you. If you have ever thought "hey it is all about me" then WWJD-40 with Megistirium is just what the doctor ordered (though not Doctors of the Church.)
The component atoms of Megisterium align however you want them to align based on your will and when sprayed on something will loose them from magisterial authority. Are you being bound by 2000 years of Scripture and Apostolic Traditions? Are you stuck with the consistent teaching of the Church? Then just spray WWJD-40 on it and it will be loosened from Church teaching and pliable to your will.
Here are just some of the uses of WWJD-40!
Are you in a valid marriage and remembered that Jesus said "So they are no longer two but one flesh. What therefore God has joined together, let not man put asunder." Well no problem just spray WWJD-40 and they break free and one become two once again! Even works to remove a wedding ring that was stuck on your finger for a while.
Have you taken a vow of obedience to your bishop? Well just aim and spray and instantly loose those vows. Works great for vow movements.
Have a doctrine with years of consistent teaching build-up on it. Just apply WWJD-40 and use a little elbow-grease to pry it free. Repeat as necessary till the doctrine is totally removed.
Do you have a conscience that is nagging you? Again simply apply and those doubts will slip free.
Lubricates liturgical practices so that they totally slides loose of the GIRM.
Removes moral objections.
Prevents magisterial authority buildup.
Eliminates messy dogmas.
Politicians can use it to slip free from their faith for critical votes.
Easily removes paragraphs from encyclicals, catechisms, etc.
These are just some of the amazing uses and we are sure you can come up with many more. Now everybody that wants to loose something for their own conscience also wants to bind someone else's. So we also provide another awesome complimentary product.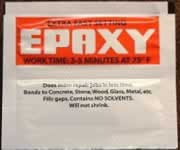 With Epaxy adhesive you mix two packages containing self-will and disobedience to cause others to adhere to your version of Church teaching. Epaxy adhesive has been product tested for years by parish DRE's to bind others to their priorities. Also works great to attach subjects that have prudential considerations directly to those that are always intrinsically evil. This adhesion allows you to promote one while ignoring the other – another amazing technique used for years in religious education with great results. Glue your agenda directly to those you have charge of.
So whether you want to bind (Epaxy) or loose (WWJD-40) we have the products made just for you. So order now to get yours since the demand is high!
Call 1-800-DIS-IDNT or visit many retreat centers to get these fine products.
(See our full page ad in the National Catholic Reporter)
Hat tip to RC at Catholic Light for the suggestion of doing a WWJD-40
parody.