I have been meaning to do some reviews of Catholic Podcasts. Unfortunately the term podcast has stuck since it really has nothing to do with iPods and specifically and just refers to audio files like mp3s and video files that have a feed and can be subscribed to. A podcast reader like and iTunes and others is used to subscribe to a feed and to automatically download it to your computer when a new podcast is available. I first started listening to podcasts some time ago with Jayson Franklin's Catholic Cast. Jayson is currently not podcasting, but he has been influential in getting some other Catholic podcasters started. I am only mentioning Catholic podcast that I personally listen to. There are probably other good ones that I have not got around to.
Catholic Insider – Fr. Roderick of the Archdiocese of Utrecht, The Netherlands is probably the most well know Catholic podcaster and he has been interviewed by Vatican radio and many other media outlets. He is now podcasting Monday through Friday with the Daily Breakfast. His show covers news, gaming, movies and TV shows, and answers about the faith. His show is both fun and informative. The Catholic Insider show is now dedicated to sound scene tours where he has in the past given descriptions of Cathedrals and pilgrimage sites.
Catholic Mormon Podcast This is done by a couple Sarah and Rob. Sarah is a former Mormon and Rob is a lapsed Catholic who rediscovered his faith. The show discusses both of their journeys and the difficulties involved in a family when one leaves the faith they were brought up on. The show also discusses Mormonism and tries to be fair to what the Mormon's teach and at the same time contrasts and compares it to the Catholic Church. The show is well done and the banter between them is fun. This is definitely a good example of the new evangelism and what can be done using modern media. They don't bash Mormon's and if they make a mistake in telling their beliefs they correct it on later podcasts.
Rosary Army This is a Catholic couple Greg and Jennifer who have turned their apostolate of making and giving away Rosaries into a podcast. I was aware of their podcast for a while, but didn't listen to it. I though it might be too POD (pun always intended) and perhaps piously boring. Boy was I wrong. Their show is both fun and serious. Greg at times does some very funny musical numbers and they talk about their daily struggles in life and in their spiritual life. The show is very well produced and the interaction between the two is fun to listen to. They have also just started another podcast which will lead through the prayers of St. Louis de Monfort's total consecration to Mary.
Mark Shea's Rock Solid This is a short podcast usually ranging from 3 to 4 minutes that covers the liturgical calendar, history, and other subjects. This is Mark without the snark, but it is very informative and he was even able to talk about the Jesuits with no snide comments. One of my favorites.
Catholic Under The Hood This one is done by Fr. Seraphim Beshoner, TOR and is the PODest podcast. He has done shows on The Jesus Prayer (one of my favorite – both his show on it and the prayer itself), covered icons, and done interviews. His icon show is now a videocast where he shows an icon and then discusses the theological aspects of it. He also blogs at Friary Notes.
Catholic Rockers George Leite interviews Catholic musicians in the genre of hard rock, modern, alternative, rap and jam bands and plays some of their songs. This show has made me aware of some Catholic bands that I like. George also runs Catholicjukebox.com.
Word on Fire Great homilies by Chicago priest Fr. Barron. You can also listen to his homilies over the last three years. Especially good was his two part one of Pope Benedict after he was elected. Part 1, Part II
Fr. Philip Powell's Homilies Fr. Powell who blogs at Domine, da mihi hanc aquam! has recently started podcasting.
The Word Made Flesh St. Blogs sorely missed Fr. Sibley has a series of very good talks.
Universal Call Jim Merante emailed me previously about his podcast and asked me to listen to it. I am glad he did because it is very worth listening to. He does a series of interviews and I have listened to all of his past shows. All of the shows are good but I would especially recommend the one he did with Mother Antonia. He has currently finished part 1 of a two part interview with Renee Bondi.
Vatican Radio Has short clips of interviews they do and coverage of the Pope. I just love hearing Pope Benedicts XVI's voice even when I can't understand the language.
Verbum Domini Daily scripture readings from the liturgical calendar.
EWTN's podcast. EWTN is podcasting a variety of their shows including Open Line (which recently added Patrick Madrid to the lineup), the daily homily, and the majority of their evening shows.
Catholic Answers They are not technically yet podcasting (though they will be in the future), but they can download mp3 files for their shows on their calendar page. They now broadcast for two hours and have separate files for each hour.
Latin Podcast – Gerald Augustinus is still working on getting a feed for his new podcast, but the show looks very promising especially for those who know little Latin such as myself.
Update: Here is one mentioned by others that I should have added.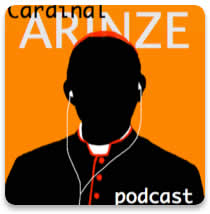 When I first saw this graphic at American Papist I though it was a good joke, but not an actual podcast. My mistake since the good cardinal is actually podcasting. This is great news since I so enjoy Cardinal Arinze who is straight shooter. You are always sure what he says and where he stands when he replies to something. So it is pretty cool to have the
Prefect of Divine Worship and the Discipline of the Sacraments podcasting. The only thing that would be cooler would be a Popecast. He could podcast about marriage and call it Pod Casti Cannubii. That would be a great aPODtolate.