At View from the Pew Keli takes a look at Wisdom Ways Center for Spirituality a spirituality ministry of the Sisters of St. Joseph of Carondelet, St. Paul Province. Much of the site is all too familiar if you have explored the web sites of progressive sisters before. They default links to the UN Earth Charter and Green Peace and the headquarters of most of these orders – the United Nations.
Q: On your website I noticed that about once/month there is a drum circle and sometimes drum making offered. Why do you celebrate a Native American tradition? Thank you, Samantha.
A: Dear Samantha,
It is interesting that you ask about drum making and the drumming circle we have each month. It is true that we associate this with the traditions of our Native People…However, you might be surprised to know that all cultures at one time created their sacred drums. So, when you make your own drum you are taking that which has died (the elk or deer and the maple tree) and using your energy to stretch and shape a new creation. When we beat our drums, we create new energy of healing and life. Prayer, meditation, Tai chi, reflective walking–these are all ways in which we connect with God, the Sacred, the Love that unfolds all creation. Drumming is another way to connect with and spread this Love.
Wow I wish I would have know that when I was a kid. When told to stop banging on some bongo drums I could have replied that I am using my energy to stretch and shape a new creation and not just making noise. The only problem with this stuff is that even when I do what should be obvious parodies on my Thoroughly Modern Mary progressive nun parody blog that too often people can't differentiate parody from what is written on these sites.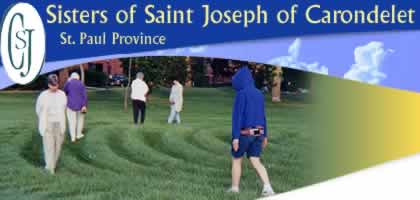 And no the CJ is not Curt Jester, this is one of their rotating banners for the Sacred Circle Dance "All are welcome–no epxerience [sic] necessary!" Wow who would have thought that you didn't require experience to walk around in a circle. 'Are we done yet! No just a little farther we are almost at the end.' I have heard of circular reasoning, but not circular meditations.
And of course what is a modern spiritual retreat center without a labyrinth. There they give you instructions on how to create your very own personal five foot square hand-painted floor labyrinths. I wonder if any of them manage to get lost in a five foot square labyrinth. If you have your own personal labyrinth maybe they can have Paul McCartney come and sing "Baby, I'm a maze."
Update: Roman Catholic Blog has a post on Where Have All The Sisters Gone?