Dawn Eden launches a photo caption contest.
NARAL's "I Am Pro-Choice America" campaign. Go to its home page and you will find dreadfully earnest-looking images of women in various states of defiance, each displaying NARAL's "I Am Pro-Choice America" sign in he office cubicle. It's intended to protest President Bush's inauguration and celebrate the anniversary of Roe vs. Wade.
NARAL's page has pictures of various women holding these signs including one pregnant women – who must still be pregnant with a choice. If this choice survives it's mother's choice and passes into the realm of wantedness and not at an inconvenient time I am sure that child is happy to know that it is one the survivors in womb roulette.
Here is an example of one of the pictures.
In the past I have been willing to offer my services to NARAL and this time is no exception. I didn't think their collection of photo's was inclusive enough since they were all women so I dug around to find this picture.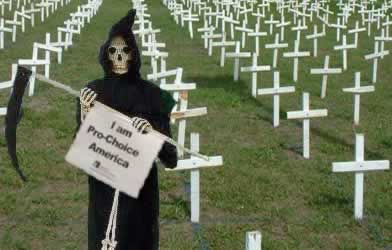 Updated: I modified my picture to remove the obviously military cemetery in the background for another background instead. A commenter on Dawn's blog objected to the use of the military cemetery for the honored dead. In other news read the story about of one of NARAL's lawyers contacting Dawn Eden about the use of one of their photos on her site. I also updated my site to only link to one of those pictures instead of displaying it.
Updated: Yet again I updated the background. I was not quite pleased with the background because of the proportion between the head stones and the reaper. To be even more symbolic I used a very appropriate background. In my diocese once a year at the site of the first Mass in the U.S. at the Mission of Nombre de Dios in St. Augustine 4,500 hundred crosses are placed to signify the number of children aborted each day. I previously did a post on this when this site was vandalized by uprooting the crosses and placing wire coat hangers in place.