With the advent of Advent it is now that time of year again when everybody from soap operas to sit-coms do some variation of Dickens' A Christmas Carol. It is also the time of year when Christian bloggers rant about the commercialization and materialism that Christmas has become for many. Advent traditionally has been a penitential season and with Christmas shopping the tradition continues. Modern society has become a kind of funhouse mirror when it comes to Christian Holidays. The image of Christ coming to us as a new born babe and starting the journey that seemed to end at the cross is distorted in the reflection of societies mirrors to something quite warped. The words Holy Day and Christ Mass were compressed to Holiday and Christmas first for ease though the meanings were not lost. Now Holiday is synonymous with vacation or days off and great feasts of the church have been supplanted by the highest secular holy days of "three day weekends." And Christmas has become a banned word that must be avoided an replaced with season or winter solstice wherever possible.
The thought of Advent as being penitential is at first hard to grasp. Reflecting on of the incarnation and of the joy at his arrival of the Christ child seems to blunt and move towards a Lenten style fast. Last year I also wrote about the variousreasons for the season that we are to take to heart. The message in the majority of the Holiday fare breaks down to being nice and how important family is. While there is much truth in this, Christmas does come down to a family – the Holy Family. Its need also originates in the first family: Adam and Eve. While some theologians have mused that perhaps that incarnation might have occurred if Adam and Eve had not fallen into sin – the fact is that they did and we have continued the family tradition. Every year we gather around the Christmas Tree and see the gift given us by our relatives Adam and Eve – original sin. Yes the reason for the season is sin – one size fits all. Fed-exed to us via the Holy Spirit and Mary's fiat we received a gift wrapped in swaddling clothes. He came that we may have life and have it abundantly. That our life becomes supernaturally fruitful into eternal life with him. The gift first presented to us in swaddling clothes moved on to exchange them for a bloody shroud to redeem us from our sins.
Bearing this in mind can we not work to prepare ourselves a bit for such a gift? God continuously give us grace. Where sin abounds, grace abounds all the more. Jesus promised to always provide us an escape from sin. That in turning to him and cooperating in grace that we are moving towards further sanctification. God gives us a gift card of grace and like regular gift cards if they sit in your drawer and our never redeemed that they become worthless. No matter the value charged to the card it will not be applied to us unless used.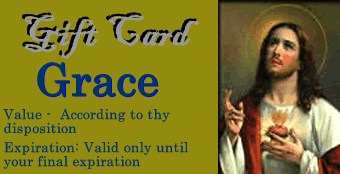 The question becomes what gift shall we give Jesus on Christmas? Will it be another crown of thorns? Or will it be packaged in a nice box secured with ribbons and bows – a humble and contrite heart?