Pope John Paul II has instituted a sports department, citing this month's Athens Olympics as testimony to the importance sport has in today's world.
The Vatican has described sports as a "nerve centre" of contemporary culture, as well as a new playing field for church efforts to reach its flock.
"Today sports occupy a very relevant role, both on the personal level as well as on the global level," the Vatican said.
"The church, which has always shown particular attention to various and important sectors of human coexistence, is called upon without doubt to pay attention to sports, which certainly can be considered one of the nerve centres of contemporary cultures and one of the frontiers for new evangelisation," the Vatican said.
John Paul set up the sports department with "the very intention of making the Holy See's solicitude felt in the world of sports".
[Full Story]
Here is the Holy Father doing his part.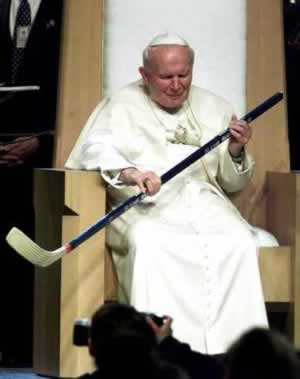 This appears to be a Vatican department to help to help re-inject fundamental values of fairness, ethics, transparency and legality into sports as its stated aim. Now I thing real Vatican sport teams would be cool.
Like the Vatican Cardinals.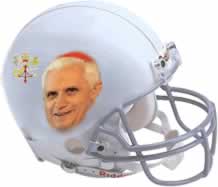 Where all passes are Hail Marys.
Now the Vatican must have some real good athletes because newspaper headlines are always using adjectives like, bash, attack, smash, flay, irk, assail, denounce, hurt to describe their actions (and this small sample was taken from headlines just this week).
Other possible sport team names are:
Tiber Tigers
Spanish Inquisition ( nobody would ever expect them)
Fighting Papists
Milwaukee Brewing Monks
Papal Bulls
The Mighty Magisterium
The Church Militants
Crusaders
Surprisingly the Battling Bishops is already taken as a name.