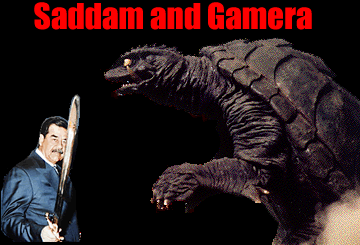 Baghdad – We all know the story of Saddam and Gamera from
Genesis, but bible history is repeating itself. At an undisclosed Iraqi location
because of chemicals from previous biological warfare programs leaking into the
soil and also because of a recent underground detonation of a weapon of mass
destruction a relatively benign turtle has mutated into the monster Gamera. This
monster definitely has anger management issues and has been breathing down
brimstone and fire on local unrepentant towns. It has also been reported that
Gamera emits a sodium death ray that will turn people into pillars of salt.
Public safety officials have advised people that if they encounter this monster
that they should run and not look back. The Iraqi leaded has called Gamera the
"Mother of all Monsters" and is shown here in battle with the
creature.
In a related story – agnostic monster protesters in Japan are
trying to eradicate Godzilla from the schools, popular culture, and movie
theaters. A lawyer named Michizane Newdow has filed a suit to protect his
daughter and said "I don't believe in the vengeful wrathful Godzilla of the Old
Testament and I think that the government should not be forcing a belief of
Godzilla on the citizens. We are all alone, if we are in trouble we must help
ourselves because Godzilla is not going to save us."