Browsing the Review category...
As a long time user and  fan of RSS feeds I am always looking for the best reading experience in reading the contents of multiple RSS feeds.  I've used multiple desktop and online readers and for the last 3 years my RSS reader of choice has been NetNewsWire on the Mac which pretty much has all the features I wanted while having a good interface.
When I got my iPad I bought the iPad version of NetNewsWire which I was also quite happy with and have been using since the iPad came out.  That is until a a new RSS reader called Reeder came out and dethroned NetNewsWire on my iPad.
There is a big difference between an app ported over to run on the iPad and an app really designed with the iPad in mind.  For me Reeder shows that distinction by really taking advantage of the iPad's capability and how to best use touch in the interface.
Reeder like NetNewsWire uses Google Reader to manage RSS feeds.  So any feeds you have subscribed to in your Google Reader account are used.  Google Reader is used as a excellent way to sync your feeds so that you can switch from a laptop/iPad to your desktop reader and only unread feeds are displayed.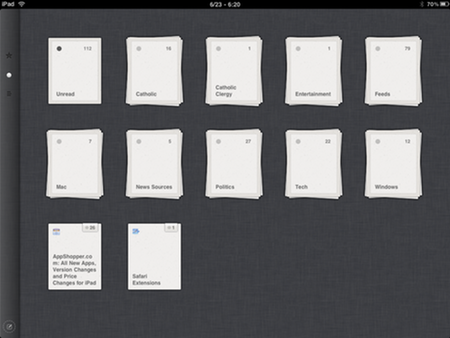 When you open up Reeder you see this screen with a list of folders you have on Google Reader.  The folders shown can be limited to only those with unread items as shown above.  The three icons on the side let you filter this as you want.
You can click on a folder set to view all the items within or select Unread to see all items.  You can also use the zoom/pinch gesture to display the feeds within.  For example using the zoom gesture I could look at the individual sites I am subscribed to and in this case it is showing how many unread items per site feed.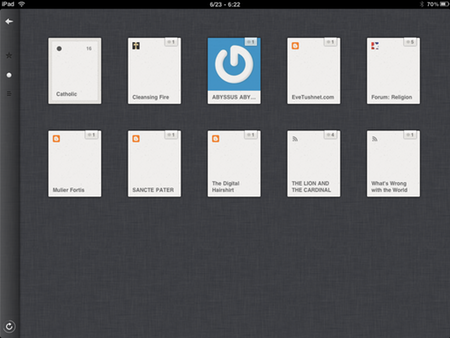 Clicking on a feed from this screen or from the opening screen brings up the screen where you actually read the feeds.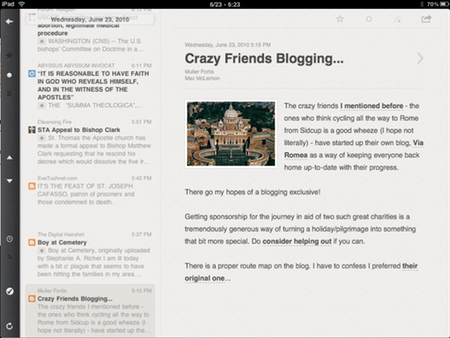 In landscape mode you have an icon bar, list of feeds, and a window showing the contents of the selected feed.
The same three icons displayed in other views once again let you filter the feeds displayed by favorites/unread/read and unread.  Navigation is simple in that you just click on the feed to have it display or you can use the up/down arrows to navigate to the next previous item.  I really liked that the icon bar is on the side instead of on the top.  It is much more natural to hold the iPad and to be able to access these icons without having to adjust your hand.  Very natural to use.  The 2nd and 3rd icon from the bottom allow you go go to the top/bottom of the feed list.  The icons used for this didn't make sense to me – though maybe there is a reason behind them.  Plus of course there is the refresh icon forcing Reeder to check Google Reeder for new items.
On the top of the preview area there are icons that allow you to set an item as read/unread, shared/unshared, favorite, along with an icon that brings up more options.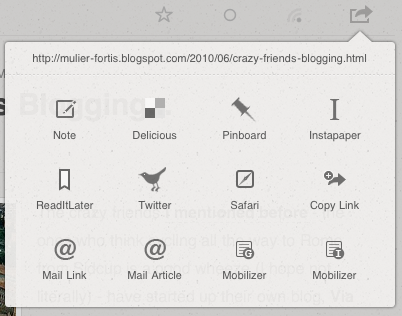 This menu lets send information from the currently selected item to multiple locations.  Save the item to read later by sending it to email, Instapaper, ReadItLater, or perhaps tag it and send it to delicious.  Or you can easily send the item's url to Twitter along with your message and while having the url shortened.  You can also send it to Safari to read the item in the browser from this menu or by clicking on the feed title in the preview pane itself.  I have done all of these options and it is extremely convenient to be able to go through feeds and to extract information you want.
Though for many of the services mentioned you have to have an account for that service and the first time you use the options you will need perhaps your username and password to be entered.  The preferences allows you to setup your usernames ahead of time.  I wish they would have allowed you to be able to do the same with passwords.  If you want to email a link it will use the contacts you might have synced with the iPad.
If you have loaded an item into Safari, from the menu bar you still have access to all the options shown above.  Like most apps if something is displayed in the Safari window it does not actually leave the app, but shows it in a full screen window where you can easily go back to Reeder.
In the Settings App on the iPad you will find the setting options for Reeder where you have a number of options  as to how the app works and setting up services used in the options windows I mentioned. i You can also select which options you want to display and so if you don't use one of the services you can keep it from being displayed.
Aesthetically the colors used are rather bland gray scale colors. Though I can understand the design reasons this might be so. I would love if they had a couple default color themes to change this up and make this even a better product.
Reeder is extremely simple to use and the interface is there to help you instead of getting in the way of some apps.  I have found I much more like reading through all the feeds I follow on Reeder for the iPad then on the desktop version of NetNewsWire on my Mac.  Often iPad/iPhone/iPad Touch applications are a compromise that allows you to get some of the experience of a full fledged desktop app.  Reeder transcends that and gives you a superior reading experience.  This app is currently in a 1.0 release and I am really looking forward to any improvements they have in mind.  At $4.99 I think this is a quality product, though like pretty much everything it won't be to everybody's tastes.
I have always been a reluctant laptop user and always more of a desktop kind of guy.  Sure laptops can be quite useful for there portability, but they always feel like so much compromise when using them.  Over the years I have used multiple laptops associated with work and pretty much always attached external keyboards and mice to them.  The interface to use them is what really gets in the way and you kind of defeat the portability purpose when you have to carry external peripherals to go with them.  Some time back I had a Dell Duo-Core machine with a good amount of memory and a 17″ screen, but I just hated typing with it and using the trackpad and trackpad button was always a chore.  It just never melted into the interface background.  My wife's 17″ inch HP laptop is much the same and the trackpad would drive me to frustration in short time as the cursor would seem to go pretty much willy-nilly.  The actually processing of laptops have though quite advanced over the years and there is much less compromise in this area.
Having given my Dell laptop to my daughter a year ago I have been without a laptop and would just resort to using my wife's when I needed one.  But using that HP trackpad has me offering it up in short order.  So last week while at the Navy Exchange I decided to look at getting one of the new Mac laptops.  I had originally planned on getting a middle-0f-the-line MacBook.  I was trying to exercise the virtue of prudence by thinking that all I needed was a MacBook and not a Mac Book Pro. Though I have to admit that just adding Pro to the model name made it more desirable for me. But I was all set to go with the MacBook, the only problem was is that they had it sitting right next to the 15″ MacBook Pro.  This is where all of the rationalizing started to kick in.  First I noticed that the MacBook Pro and the MacBook I had wanted had less than a $400 price difference.   Plus a 15″ screen suits my tastes much better than as 13″ one.  So the rationalizations continued as I thought "hey I plan to keep this machine for several years so why not get the one which has Firewire and and Expresscard/34 slot which the Mac Pro does not.  Throw in the fact that it has two (count em two) video cards the $400 price difference quickly becomes moot or so I justified.  The one nice thing about being able to shop in a Navy Exchange is that the prices are slightly lower than in an Apple Store and it is tax free.
Now onto the review.
The  Mac laptop line now uses the aluminum  unibody enclosure (except the white MacBook). This gives the laptop a real solid feeling while at the same time being quite thin.  The magnetic latch is an improvement over previous MBPs.  Since it was carved out of a solid block of aluminum the solid feeling is more than skin deep.  The LED-backlit widescreen display is really quite beautiful and the colors quite vibrant.  The glossy screen can be disconcerting at first, but I had already grown use to a glossy screen on an iMac and so now don't even think of it and in fact now prefer it.  When it comes to aesthetics it is hard to surpass Apple.  The machine looks more like a piece of art with the metal body, black keys, and glowing white Apple log.  But the reason to have a computer it to be able to do something with it.
The true test for me was usability when it came o the the keyboard and trackpad.  I must admit to being rather shocked at how fast I was able to use the keyboard and to type at normal speed.  I have used plenty of laptops with full sized keyboards, but they just never felt right.  For me the MPB keyboard is just about perfect, though this is quite a subjective area.  What blew me away was the trackpad. Apple has gone to a larger trackpad with no buttons where the whole trackpad is a button that you can click.  This is a trackpad that I was able to use immediately with hardly any learning curve at all.  Now I realize Steve Jobs mission to remove every possible button to excess and when it came to Apple mice I always considered this a fault.  This no button trackpad is simplicity itself, but actually usable.  I can scroll by using two fingers anywhere on the trackpad.  I can right click by pressing down with two fingers (or clicking in a selected bottom corner).  Then there are the variety of other multitouch gestures to zoom, rotate, bring up expose, etc.  I love this trackpad so much that I actually want a keyboard with a trackpad for my desktop machine.  While if they had such a keyboard I would still use the regular mouse, I would also use the trackpad a lot.  I tried out the beta version of Firefox 3.1 which supports multitouch and it really was a great way to browse.  I had been a been a reluctant laptop user, but the MPB is really a joy to use.  Plus the fact that the keyboard is backlit is quite a plus in many situations.
The hardware inside includes and Intel Core 2 Duo running at 2.4 ghz with a 1066MHz frontside bus.  2GB of DDR3 SDRAM memory which Apple says is expandable to 4, but some have gotten 6GB to work fine (though others with problems).  A 250GB hard drive along with a NVIDIA GeForce 9400M and a 9600M GT with 256 MB.  The dual video chips are pretty cool since if you are running on battery you can switch to the less capable card to preserve battery life.  Though it is quite annoying that to switch video chips you have to go to the preference panel to do so and then log out and back in.  This should be made much easier and hopefully software can address this in the future.  The MPB is also available with a 2.8 GHZ chip, but I did not see the price tradeoff/benifit as worth it.  Other standards include 802.11n draft specification, Bluetooth, and Gigabyte Ethernet, but this is pretty standard for modern laptops.  A bottom cover allows you to easily access the battery swap out the hard drive or add memory.  This is an improvement over previous generations of the MBP where changing the hard drive took much more disassembling and was not for the casual user.
As with previous Intel Mac laptops the MagSafe power port is use.  The power connector uses a magnet and quickly attaches to the side of the laptop.  I have already found this to be a great feature since it easily disconnects if you trip over the cord and it won't bring the laptop down crashing along with the cord.  Plus there is just the juvenile fun of connecting it and having the magnets pull it together.  One nice bit of design is that the power brick end  of the power has a couple of ways of connecting to electrical power.  The little white brick itself has 2 prongs that pop out to plug in.  You can pop this off of the power brick and connect a longer 3 pronged cord to use instead.  I found this invaluable to use in a hotel room to be able to connect up farther away.  Nice bit of design for portability and having the ability to add an extension.
One real surprise was the sound quality.  On either side of the keyboard are speakers with hundreds of tiny drilled holes for the grill.  Best sound I have ever heard come natively out of a laptop.  Though as you would expect there is not much bass sound.  The new 17″ MBP is probably even better since they have allowed even more space for the speakers.
So the hardware is quite capable and previously PC Magazine had rated the last generation MBP as the fastest Vista machine available.  No doubt the latest MBP would also make quite a capable Vista machine, but I wanted a Mac laptop primarily to run OSX in the first place.  When my wife and I would go traveling and we would take a Windows laptop I felt like I had lost so much capability.  There are so many Mac programs I have grown to love that just don't have a Windows counterpart or an inadequate one.  I am not a MS Windows hater, it is just that I actually enjoy using OSX and the Mac shareware community turns out some really amazing software.  I find this laptop to be speedier and more responsive than my iMac which also had a 2.44 GHZ core duo.  So I definately do not feel like I have lost power when using this machine.  Though I will probably add more memory later just so that I can run VMWare Fusion and Windows 7 or Ubuntu when I need to as a Virtual Machine.  The MacBook Pro can easily be a desktop replacement machine.
Since I started using this machine I have been using Spaces a lot more.  Spaces is a virtual window program that is part of OSX Leopard and really makes handling multiple windows a snap.  I don't use Spaces on my main machine simply because 3 monitors provide quite enough screen real estate. But for a laptop Spaces is quite excellent.  I setup programs to always run in a certain space so I always know what Space a loaded program is in and makes switching between windows quite easily.
Now I come to the part of the review where I come out of Apple fanboy mode into a more critical mode.  When it comes to ports Apple seems to be always looking for the next best thing, unfortunately they do it before anybody else heads that way.  To hook up an external monitor you need to use the Mini DisplayPort.  Yes Apple could not even use the fairly small DisplayPort connector that is slowly being adopted, they had to make it smaller.  While Apple has said they will license this smaller port for free to other manufacturers it has quite a long ways to go before it will be supported by monitor manufacturers.  To add insult to injury Apple does not include a Mini DisplayPort to DVI adapter which you have to buy separately.  I guess they want to encourage you to buy a $799 24 " Apple Cinema Display that supports Mini DisplayPort (along with pretty much acting as a dock ).   This annoys me even though I am unlikely to hook up an external monitor to the laptop anyway since I have the Mac Pro desktop.  The machine also has only 2 USB ports which is less than most Windows laptops you will find out there.  The fact that there is only 1 Firewire 800/400 port doesn't bother me though and the number of USB ports is not a concern for me  either.  Right now I can only foresee using USB for a backup hard drive and a thumbdrive anyway.  Apple goes quite minimal on ports, but considering just how thin the MPB is it is amazing how much they do manage to get what they have in.
When I had previously gotten an iMac it came with an Apple remote which I came to use quite often.  So does the MPB come with one?  Why of course not.  After forking over the money for a MBP in the first place you have to buy a $19 Apple remote separately. Apple does this sort stuff all the time.  The iPod use to come with a dock and a little powerbrick to charge the iPod using a regular socket.  With each generation of iPod you got less and less external peripherals which of course are sold separately.  Come on Apple what does the Apple remote cost to make – 2 or 3 bucks?  Or how about a year of MobileMe with the purchase of a new Mac or at least at a discounted price? How about iWork with a Pro machine. Apple at times wants to nickel and dime you to death after you have already put out some serious cash for a Mac.  Though on the bright side OSX with iLife really provides a lot of capability and software that you would have to pay extra for in the Windows world.  Not only that you don't get all the crapware that comes with almost all Windows machines.
So I am quite happy with the Mac Book Pro and find it the first laptop that I can really enjoy and most of all can use constantly without feeling the laptop compromise.
A couple of days after I bought this machine Apple announced at Macworld the new 17″ Macbook Pro.  At close to $900 dollars more than I paid for the MPB I bought, I am not feeling any buyers remorse.  Plus I think the 15 inch is just the right size for both portability  and still having sufficient screen real estate.  The 17″ does come with slightly faster CPUs and can handle 8 GB of ram.  The new technology battery is suppose to get 7 to 8 hours of battery life (whatever that is in the real world), though it is not user replaceable.  I must admit that the 17″ MBP is a pretty serious machine for those who need the size and it is pretty amazing that is is only 6.6 pounds which is only 1.1 pound more than the 15″ model.
This weekend while at Costco I noticed that they had LED flood lights.  In the front of my house I have use for two flood lights that come on at nighttime.  I had read though that LED lighting for the time being is fairly expensive.  I was pleasantly surprised to find that these LED flood lights were $16.  While that is 2 to 3 times more than a normal 100 watt flood lights I thought it would be much more convenient considering that having to change these bulbs required dragging out the ladder and they never seem to last much more than six months to a year.
The fact that they only use 5 watts a power might mean that they might actually pay for themselves over time in energy saving and they are rated for 30,000 hours.  So for the time they would be on that is close to almost seven years of use.  Though these hour ratings in real life might be much different.  CFL bulbs are often rated for five to six years of use, but in experience I find that in reality it is much less.  While some of them might actually survive that long, I seem to replace them much more often than I should have to.  Though LED's being solid state should be their very nature last much longer than  previous bulbs.
So I bought two fo them to try out to see if they would give enough light to illuminate the front of the house at nighttime. I was quite happy with how well they did illuminate the yard with a much whiter light than other bulbs.  Quite amazing that they only use five watts of electricity for the amount of light they give.  Now I am a global warming skeptic, but am more than willing to use devices that use electricty because I am not a skeptic when it comes to the electric bill.  I have enough electronics drawing current that I am like an energy efficient device.  If I get three years out of these bulbs I will be happy, if six years or more ecstatic.
Now just waiting for affordable indoor LED lighting.
Back in October was my one year anniversary as a Mac user from when I first bought an iMac as an experiment into the Apple world. For me as for many the iPod was the gateway drug into Apple and Intel Macs made it easy for me to make the transition.
I did love my iMac, but as a one piece computer it had it's drawbacks.  At one point I had three USB harddrives hanging off of it for backup and for Windows programming I do for work.  It certainly worked fine, but the lack of upgradeability on the iMac is limiting.  Because I love screen real estate I wanted to add another monitor to give me a total of three and the solutions for doing this on the iMac are less than optional.
So in October I took the plunge and bought a Dual Quad Core 2008 Mac Pro.  This isn't just a computer, like most Apple products it is a work of art.  I loved how easy it was to add 3 more internal hardrives to it and another video card all without needing any tools.  What amazes me is just how quiet this powerful machine is.  I wouldn't even know it was on if it wasn't for the power LED and of course the signal to the monitors.  It has power to spare and even when I have multiple virtual machines running it is hardly taxed at all.  I bought 8 gigs of third-part ram and was pleased to find that I could still use the 2 gigs it came with to give me a total of 10 gigs of ram.
It use to be if I was working in Visual Studio in a virtual machine I couldn't really run another program that was cpu intensive.  I love to convert text to audio to create audiobooks using the built in voice Alex, but my iMac to reduce to a crawl when I did so.  The Mac Pro does it effortlessly even if I am running Visual Studio and watching a DVD or EyeTV at the same time.
Power to spare which is a good thing because I hope to make this a machine to last 3 or more years. Now I admit to being a hardware junky and I use to build a new Windows machine every year to year and a half to get the most power I could. Plus I love the fact that the Mac Pro is so upgradeable in that I could add a Blu-Ray burner later even if Steve Jobs calls Blu-Ray a bag of hurt.  If Apple had made a Tower similar to an iMac I would have been happy with that, but then again as a geek just saying Dual Quad Core makes me smile and the Mac Pro is built to last.  One thing I have been suprised about in the Apple world is the number of users that can use older machines and the fact the later OS releases will run just fine on them and in fact can even improve performance.  Something that never happened in the Windows world where each new OS ideally needed new hardware.
After three months of using the Mac Pro the honeymoon is over, but I still love the machine. Now I can hardly wait for Snow Leopard to come out which will make its number of cores more efficient and more powerful.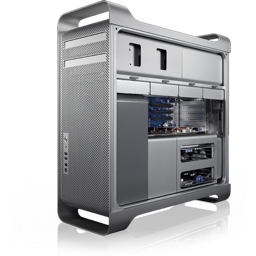 Trackback

• Posted in Hardware and Software
[youtube=http://www.youtube.com/watch?v=KXNZV1I6s9w&rel=1&border=0]
The above is Fr. Roderick comparing a clean install of Leopard to going to confession. Appropriate since I also went for a clean install. Even though my iMac was only three weeks old and one of the other install methods would probably have been just fine – I always prefer a fresh install and then adding backed up data. Maybe it is lessons learned from Windows that make me prefer this, though some did get an Apple blue screen of death using the other methods.
This was certainly an easy install that went rather quickly. One of the easier installs that I have done and I have done hundreds of installs over the years at home and at work. Windows Vista install process is much improved with limited reboots, but Leopards was even simpler. The only thing disconcerting for me was when the screen would just go blank during the install which was only a power saving mode – this freaked me out at first since during a windows install this would be a bad sign. After installing I then backed up my OSX Leopard setup disk. I had never backed up anything to a dual layer DVD disk before and was quite pleased it took on the first take considering that this media is much pricier.
After a day of playing with it I am quite pleased. With Windows you come to expect more features at the cost of decreased performance and the need to update your hardware. With Leopard everything is noticeably faster (especially Spotlight) and response time is really snappy.
It is the visual interface of Leopard that has drawn the most criticism from users. A lot of this is of course quite subjective and what will please one person will annoy another. I don't mind the new 3D looking dock with its reflection and glowing blue dot to indicate a program is loaded. Maybe this is because I am a new user and not as staid in my ways when it comes to OSX. For me it doesn't get in the way.
The new stacks feature is interesting, but I think it is poorly implemented. I don't keep large amounts of files in a single folder and keep my data and programs categorized in subfolders so the fan option works for me just fine. What I find annoying is that the icon used on the dock is the icon of the first item found and there is no easy way to set this folder icon to one of your choosing. I think it would have made more sense to put the "Show in Finder" button as the first option instead of the last. You can set the default view, but you have to wonder why they didn't allow the use of the previous behavior as an option.
The translucent menu bar is another item that has gotten much criticism. I don't think it is as bad as some critics have described is as a menu smear, but it would have made so much sense for the user to be able to set how translucent it is or to make it totally opaque. I tried one of the software solutions to make it opaque, but it didn't work for me. I ended up adding a 22pixel white strip to the top of the background graphic I used. This fixes the strip, but the pull down menus still have the same problem.
One last criticism of interface changes. The new folder icons look like they had to budget color. The blue color of the folders themselves is just fine, but it is more difficult to discern what the folder represents from the faded blue icon in their center. It is like the folder icon went through too many washing cycles and has come to look like somebodies favorite pair of faded blue jeans.
You have to wonder how much input people had during the beta process? This couldn't have exactly blindsided them considering how some of this has been panned by prominent reviewers. At least they could have easily included options to modify these behaviors or to be able to choose a different icon set.
Spaces is a very nice implementation of virtual windows. I have used virtual windows over the years and never found a implementation that I would keep using. This being built into the OS makes it very functional and I am quite impressed by the speed of it's operation. I am not sure if I will use it on a consistent basis considering that I use multiple monitors, but I think that I am more likely to since it also works quite well with multiple monitors. You can access spaces via the dock, keyboard shortcuts, and the menubar. Spaces could though use some more enhancements, such as the ability to customize each space by having its own dock and its own background graphic.
One of the new abilities I like most is how it works so much better on a network. I often go back and forth between my Windows folders and my OSX ones and Tiger was not the speediest in doing so. Shared folders are so much easier to get to and especially to browse to. Before clicking on an icon would send you into spinning rainbow limbo for quite a while just to get to the next level within a workgroup. Now it works just like you are accessing a local drive.
I find that I like the Coverflow option in finder much better than I expected to. I don't use it in iTunes because for me with a large CD collection it is not a very efficient way to find an album.  But for browsing files it is really quite useful and fast in showing you a good idea of what a specific file contains. The same goes for quick look which also lets you browse, play, and read through a file without every having to open up a parent application to do so.  Even better though coverflow is one of four file view options so you can just choose the view you want depending on your needs.  OSX could do a little more with this philosophy especially for visual interface elements.
What will be interesting to see is the third party apps that will be developed using all of the new underlying capabilities of Leopard.   There was a lot more done under the hood then meets the eye and obviously a lot of optimization was done on existing code to make it more efficient.  This is a great time for PC users to start using Macs.  Now I am not a Vista hater and like many of the new capabilities of Vista over XP, but it certainly doesn't have as coherent an experience as Leopard does.  Many things in Vista seemed glued on instead of fitting in with the whole.  Though I would love to see OSX to get the flexibility of Vista's file and folder dialog boxes that contain the full capability of the Finder window.
I haven't played with Time Machine yet though it is quite interesting that Apple can design a backup feature that you are actually eager to try.  Though it does make you wonder if there will be any system paradoxes if you delete your grandfathers file.
Time will tell just how bug free Leopard is and of course there have already been a patch. But my limited experience has been very good.
After two week of working with OSX I am quite impressed with it.
Coming from windows it does take some time to get use to it, but it is a rather quick learning curve.  It has been a pleasure setting up and I loved how easy it was to work with the System Preferences and how easy it was to find and to change something.  I am not a Windows basher and I pretty much like working with Vista, but OSX just seems so much more stable and integrated.  Too often under windows you get the feel that things were grafted on and though they generally work they don't always have the responsiveness you might desire.  It just works.
There are of course several things a Windows user will at first find frustrating.  You open a program and think at first there is no menu bar available – when in actuality OSX uses a common Menu bar at the top of the screen that is used by all OSX aware programs.  This is really a much better solution and frees the real estate of program windows.
The Mac's Command key functions much like the PC Control key, but it placed at the normal Alt key location.  Thus command PC commands like Ctrl-C, Ctrl-X, Ctrl-P, Ctrl-A etc are now Command-C, X, P, etc.  Thus I have made plenty of mistakes copying/pasting.  I am looking for a good solution to remap the keys and have it work with Synergy, but haven't found it yet.  Though I am much more accurate in remembering which key to use when I am in what environment.
The way the maximize button works is also quite different from how it works in Windows.  Though I now understand why the PC version of iTunes never included a button to minimize to the mini player.  Under OSX the maximize button can cause iTunes to switch to the mini player or back to the full player mode. You also have to get use to being able to resize from only one location on the window.  This is one area where Windows is more intuitive in the resizing of windows.
Installing programs in OSX is also much different, but really quite an improvement.  There is much better control over where programs are installed and you are much more likely to know where files are being placed.  Plus if you decide to later move a program from one area to another it is also much more likely to still work and not break any links to it.  I use to be quite a fan of IBM's OS/2 which was really a pretty good operating system for its time and it also had this capability.  Though you must remember that some files can be placed in other folders such as in your library folder and you must remember that dragging an application program in the trashcan will not delete these files unless you use an application that enhances the trashcan.
I really like Spotlight and how well it is integrated into the system.  This provides really good searching capabilities throughout the system.  Vista has much improved search capability, but it is not as well integrated and is limited.  I have used Spotlight a lot as I got use to OSX to easily find apps and documents. I really like Spotlight comments that allow you to tag a file.  You can then do searches that can find info in these tags.  Vista has added tagging, but it is not available to all file types.  Back in my Dos days I use to use a command shell called 4DOS that allowed me to tag files with descriptions.  I always found this invaluable and think it is odd that this hasn't been something incorporated into OSs from the beginning.  The Spotlight tag information is placed in a .DS_Store hidden file found in the same folder.  If you copy or move the file the tagged information is retained.
The Dock is quite intuitive and is much easier to access than the Windows start menu.  It is quite fun to use when you have turned magnification on in its preferences.  Though you have to aware that closing a window that returns to the Dock doesn't actually close it and release system resources. You have to click on it in the Dock first and select Quit to actually do this.
Well I could go on and on about Windows and OSX differences, it is just that switchers and sliders need to be aware of them.  I can easily see why Apple fanboys so love the Mac and OSX.  They really are a pleasure to work with  and if I never had to work with Windows again I certainly would shed no tears.
Throughout the years I have mainly put together my own systems when it came to PCs and never worried about fancy cases or doing case modes to do a system look nicer. Components were more important to me than how the system itself looks. I have the 20-inch model with a 2.4GHz processor and the new chipset so the hardware itself is quite capable.
What I find fascinating is the system design and the attention to detail that Apple is known for in this regard. This is really a system that you can place anywhere and look really nice in any room. This can't be said about most PC's unless you go for a higher end gaming system where aesthetic design is usually important. Even the packaging the system comes in appears to have had a lot of attention to detail.
The aluminum skin is quite nice to look at and I prefer it to the white plastic look of the previous iMacs. They seemed to come write out of the Woody Allen movie Sleeper where everything had that white futuristic look. I haven't used a glossy display before and this is the only option for the new iMacs. It takes a little to get use to because it is highly reflective, but once you do I find I prefer it to my other monitors. Blacks really look black and watching video on it is quite pleasing. The viewing angle is not suppose to be as good on this display, but I haven't noticed any problems in my use of it over the last two weeks.
Apple's design philosophy seems to be the less the merrier. The iMac has just one button on for power and it is placed on the back, but very easy to get to from the front. Even the power cord has been designed to look nice. The USB ports, firewire 400 and 800, Ethernet, and mini-DVI port are all arranged on the back in a small section. The silver aluminum base allows the power cord to easily pass through it, can tilt the monitor, and provides a convenient shelf for the keyboard.
Though what I find annoying about Apple's peripherals is that they seem to be designed more for looks than usability. The aluminum keyboard with white keys looks like it should be in an art museum and is really quite striking. Some seem to like it and some don't. I am in the not liking its functionality camp. It sits way to flat and I have a difficult time keeping my hands aligned correctly on. The keys though do have a nice click to them. I prefer a keyboard that accommodates your wrist easier and so use a wireless Microsoft keyboard to control both my iMac and PC. The keyboard does have an extra USB port on it so that is a nice touch. The iMac itself includes Bluetooth and their is a wireless version of the keyboard and mouse available.
The Apple Mighty Mouse is difficult to get use to if you have used two-button mice. Again the mouse is nice looking – though looks too much like a bar of soap. The scroll button is really small, but quite responsive. I have read though that most people quickly dump Apple mice in favor of ones used by the PC. I do wish that Steve Jobs would just finally admit that one button mice are stupid. Clicking a mouse and having to hold down a key at the same time is just lame. I do realize that the Mighty Mouse is a multiple button device and can be setup to act like a two button mouse, but the squeezy buttons on the side have no tactile response and I just found it uncomfortable to use.
Microsoft has major design problems with Windows, but their mice and keyboards have always been innovative and nice to work with. My Microsoft Mouse is quite comfortable to use, but it is pretty ugly. I wish Apple and Microsoft would get together on this and give us the best of both words of design and functionality.