As a long time user and  fan of RSS feeds I am always looking for the best reading experience in reading the contents of multiple RSS feeds.  I've used multiple desktop and online readers and for the last 3 years my RSS reader of choice has been NetNewsWire on the Mac which pretty much has all the features I wanted while having a good interface.
When I got my iPad I bought the iPad version of NetNewsWire which I was also quite happy with and have been using since the iPad came out.  That is until a a new RSS reader called Reeder came out and dethroned NetNewsWire on my iPad.
There is a big difference between an app ported over to run on the iPad and an app really designed with the iPad in mind.  For me Reeder shows that distinction by really taking advantage of the iPad's capability and how to best use touch in the interface.
Reeder like NetNewsWire uses Google Reader to manage RSS feeds.  So any feeds you have subscribed to in your Google Reader account are used.  Google Reader is used as a excellent way to sync your feeds so that you can switch from a laptop/iPad to your desktop reader and only unread feeds are displayed.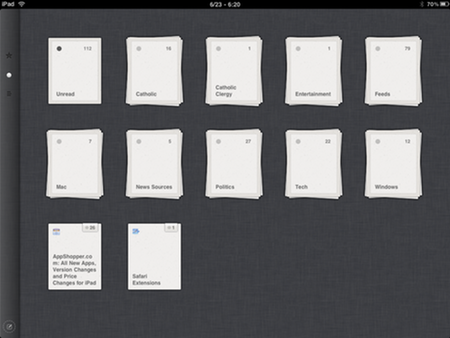 When you open up Reeder you see this screen with a list of folders you have on Google Reader.  The folders shown can be limited to only those with unread items as shown above.  The three icons on the side let you filter this as you want.
You can click on a folder set to view all the items within or select Unread to see all items.  You can also use the zoom/pinch gesture to display the feeds within.  For example using the zoom gesture I could look at the individual sites I am subscribed to and in this case it is showing how many unread items per site feed.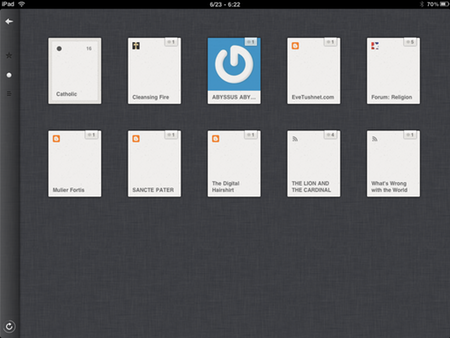 Clicking on a feed from this screen or from the opening screen brings up the screen where you actually read the feeds.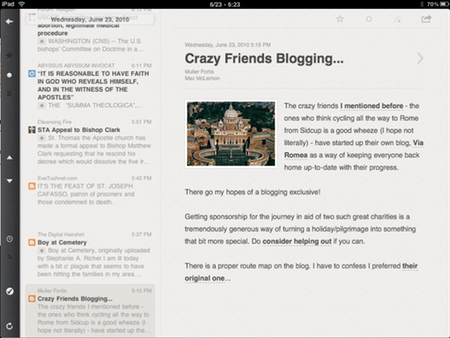 In landscape mode you have an icon bar, list of feeds, and a window showing the contents of the selected feed.
The same three icons displayed in other views once again let you filter the feeds displayed by favorites/unread/read and unread.  Navigation is simple in that you just click on the feed to have it display or you can use the up/down arrows to navigate to the next previous item.  I really liked that the icon bar is on the side instead of on the top.  It is much more natural to hold the iPad and to be able to access these icons without having to adjust your hand.  Very natural to use.  The 2nd and 3rd icon from the bottom allow you go go to the top/bottom of the feed list.  The icons used for this didn't make sense to me – though maybe there is a reason behind them.  Plus of course there is the refresh icon forcing Reeder to check Google Reeder for new items.
On the top of the preview area there are icons that allow you to set an item as read/unread, shared/unshared, favorite, along with an icon that brings up more options.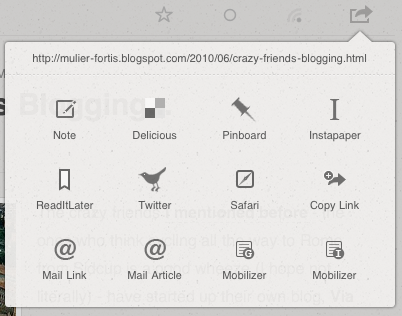 This menu lets send information from the currently selected item to multiple locations.  Save the item to read later by sending it to email, Instapaper, ReadItLater, or perhaps tag it and send it to delicious.  Or you can easily send the item's url to Twitter along with your message and while having the url shortened.  You can also send it to Safari to read the item in the browser from this menu or by clicking on the feed title in the preview pane itself.  I have done all of these options and it is extremely convenient to be able to go through feeds and to extract information you want.
Though for many of the services mentioned you have to have an account for that service and the first time you use the options you will need perhaps your username and password to be entered.  The preferences allows you to setup your usernames ahead of time.  I wish they would have allowed you to be able to do the same with passwords.  If you want to email a link it will use the contacts you might have synced with the iPad.
If you have loaded an item into Safari, from the menu bar you still have access to all the options shown above.  Like most apps if something is displayed in the Safari window it does not actually leave the app, but shows it in a full screen window where you can easily go back to Reeder.
In the Settings App on the iPad you will find the setting options for Reeder where you have a number of options  as to how the app works and setting up services used in the options windows I mentioned. i You can also select which options you want to display and so if you don't use one of the services you can keep it from being displayed.
Aesthetically the colors used are rather bland gray scale colors. Though I can understand the design reasons this might be so. I would love if they had a couple default color themes to change this up and make this even a better product.
Reeder is extremely simple to use and the interface is there to help you instead of getting in the way of some apps.  I have found I much more like reading through all the feeds I follow on Reeder for the iPad then on the desktop version of NetNewsWire on my Mac.  Often iPad/iPhone/iPad Touch applications are a compromise that allows you to get some of the experience of a full fledged desktop app.  Reeder transcends that and gives you a superior reading experience.  This app is currently in a 1.0 release and I am really looking forward to any improvements they have in mind.  At $4.99 I think this is a quality product, though like pretty much everything it won't be to everybody's tastes.