This is my current setup and a setup I will be using for the next couple of years at least.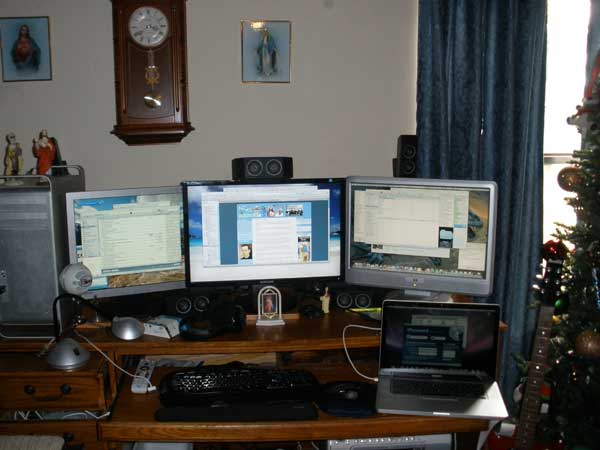 Obviously a Catholic geek setup.  The monitors are mix and match.  A Samsung 19″, Samsung 24″ Widescreen, and an HP 22″ Widescreen.  The microphone is a Blue Snowball. Computer is a 2008 Mac Pro along with a 2008 15″ Macbook Pro.  Though the laptop is only in the picture since I was transferring data and it normally resides in the bedroom.  Wireless Logitech keyboard with Mac keys.  Logitech 5.1 sound system, though nothing fancy. Behind the monitors is a DirectTV DVR which I play through a EyeTV Hybid USB Tuner.  And yest I spend way too long in front of this setup.
Catholic stuff includes.  Sacred Heart Statue, Our Lady of Mt. Carmel Statue. St. Thomas Aquinas Statue.  Divine Mercy picture.  Sacred heart Picture, and a picture of the Blessed Virgin Mary (associated with the Miraculous Medal I believe), plus of course a crucifix.
The Guitar is a red Ibanez SG knockoff, also nothing fancy – but I just dink around with it in the first place when in the mood.  Alas my dreams of heavy metal guitarist are beyond me.